Category:

Access & Affordability
Title:

Welcoming New Students to the Hoya Family
Date Published:
March 12, 2019
$10M Gift Bolsters Undergraduate Scholarships, Office of Mission and Ministry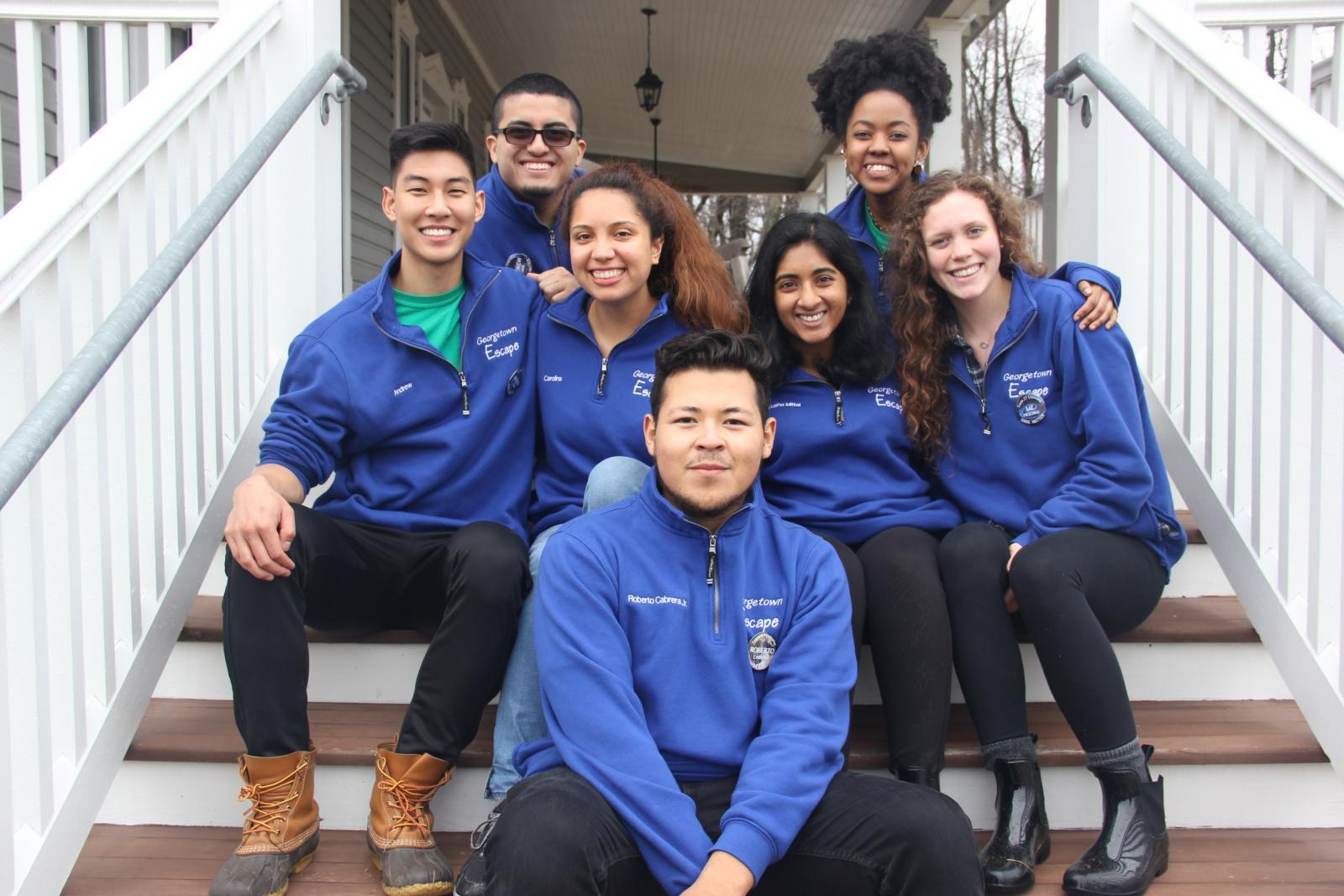 A $10 million gift from loyal Georgetown benefactors Nancy and Arthur (C'54) Calcagnini will provide $7.5 million for undergraduate scholarships and $2.5 million for the university's Office of Mission and Ministry.
Georgetown President John J. DeGioia notes that the gift, one of the largest for financial aid, aligns with the university's top strategic priority—access and affordability—while also supporting its Jesuit and Catholic mission.
"We are deeply grateful to Arthur and Nancy for their extraordinary contributions to our Georgetown community," said DeGioia. "Their generosity has strengthened our University in incalculable ways—helping us to bring the very best students to Georgetown and to provide opportunities for members of our community, across faith traditions, to come together in reflection and contemplation."
'Sharing Our Blessings'
Arthur Calcagnini, the retired chair and CEO of Lombard and Co., joined Georgetown's college board of advisors in the 1980s, and the board of regents shortly afterward. He led the Campus Ministry Committee for three years before serving as regents chair and ultimately accepting a seat on the university's board of directors.
He began giving to Georgetown not long after graduating, and subsequently supported scholarships in the mid-1980s, offering whenever he could in order to open the doors of opportunity to students from underserved communities.
"Nancy and I, as well as my children and grandchildren, have been blessed with a good education and we wanted to share our blessings with deserving students from around the country," says Arthur Calcagnini. "I created my first scholarship in memory of my mother so it's deeply meaningful for me to hear that these funds have enabled dozens of hard-working students to get a Georgetown education since then."
Supporting Access
The university—one of only a handful in the country to offer need-blind admissions, meet-full-need financial aid—is not only focused on attracting top students from diverse backgrounds, but also has programs in place to set them up for success. First-generation college students who receive scholarship funds from the Calcagninis' gift may participate in such trailblazing programs as the Georgetown Scholars Program (GSP) and the Community Scholars Program.
With special advising, mentoring, wellness and team-building activities, these programs have made national news in recent years as more statistics and studies confirm their impact. The six-year graduation rate for students participating in GSP is 96.4 percent compared to the national average of 31 percent among first-generation students.
"I know that Georgetown works hard to support scholarship students who choose to attend and I want to reward that hard work," adds Arthur Calcagnini. "I am proud of my alma mater's leadership in this area."
A Place to 'Stop and Listen'
As Georgetown parents and grandparents, the Calcagninis have taken a special interest in the Office of Mission and Ministry, which has grown to be one of the largest and most diverse in the nation.
The Calcagninis made a 1991 gift to fully endow the ESCAPE retreats for first-year students and a substantial 2011 gift to build the Calcagnini Contemplative Center on a scenic 55-acre mountain top an hour west from the main campus, overlooking Virginia's majestic Blue Ridge Mountains.
"The Calcagnini Center is another home for the Georgetown community, a place to take a break for prayer, reflection, and discernment," notes Rev. Mark Bosco, S.J., Georgetown's vice president of Mission & Ministry. Inspired by the post-Vatican II commitment to building understanding between Catholics and people of other faiths, Arthur Calcagnini spent a significant part of his time as regents chair working to promote diversity in Georgetown's retreat and campus ministry programs.
The center hosts retreats for Catholic, Protestant, Jewish, Hindu, Muslim, Orthodox Christian, and interfaith students as well as for those just learning about faith. The focus for these retreats is built on the Jesuit practice of reflection, which benefits all students.
University faculty and staff also participate in retreats at the Calcagnini Center, which features an award-winning Catholic chapel, a tree-lined green, community and dining halls, and 28 cabins that house up to 78 students.
The American Institute of Architects notes that the center's designs and materials are "calming" and "bring the outdoors in."
"Everyone has ups and downs in life," explains Arthur Calcagnini. "There are periods when the only way you can get through it is to stop and listen. Our retreat center is right on the Appalachian Trail, so for taking walks and being with nature and with God, there is nothing better."
Clarifying Self and Purpose
More than 8,000 students have participated in the ESCAPE program since its creation in 1991, and many of those students have met the Calcagninis. Arthur Calcagnini attends a retreat almost every year and frequently serves as the alumni speaker, sharing his personal reflections with the first-year and transfer students who are just beginning their journeys at the university.
The couple has received hundreds of thank-you notes from ESCAPE participants, who share tales of laughter, tears, budding friendships, and private revelations.
"Those letters and the students who write them are near and dear to us," Nancy Calcagnini says. "They say that our gift is having a transformational impact on their lives."
"Hearing students share what they feel in their hearts—it has had a profound influence on me," adds Arthur Calcagnini. "Nancy and I are pleased to help the Office of Mission and Ministry expand its important work reaching all students regardless of faith."
The ESCAPE retreats, offered only to first-year and transfer students, are part of a comprehensive retreat program open to students of every class year and every faith or no faith. They have become a model for retreats at other Jesuit colleges and universities in the United States.
"ESCAPE has been my favorite Georgetown experience—it clarified my sense of self and purpose," shares Ivana Gabriele-Smith (C'21). "The natural beauty there also set a revitalizing environment for leisure, reflection, serenity, and meeting new friends. It was probably the most carefree point during my first semester, when I felt most at ease and welcomed to the community."
Student-Athletes' Chaplain
The Office of Mission and Ministry will initially use part of the Calcagninis' latest gift to hire a full-time chaplain for Georgetown Athletics to support the nearly 600 student-athletes competing in Division 1 sports while engaged in rigorous academic pursuits.
"The chaplain will serve a resource for our student-athletes, and also work with our coaches, staff, and university leaders to strengthen and deepen Georgetown's commitment to cura personalis, or care of the whole person," Rev. Bosco says.
"Arthur and Nancy's latest gift is a treasure that will keep on giving for years to come," he adds. "Their continued generosity makes possible much of our programming, and I appreciate the Calcagninis' visionary leadership with this fund that will allow us to meet top priorities and better serve all our students."
Related Content
Scholarship Program Helps First-Generation, Low-Income Students Succeed and Thrive
'Hidden Curriculum' Course Helps Guide First-Generation Students
How Georgetown works to make college accessible and affordable
Georgetown's Access and Affordability Newsfeed