Title:

$10M scholarship gift honors Robert Henle, S.J., who 'took a chance' on the donor
Date Published:
October 22, 2020
Georgetown's 45th president, Robert J. Henle, S.J., led the university from 1969 to 1976, a particularly turbulent period in American history that saw major change nationwide and at Georgetown. A Jesuit priest and classical scholar, he took to heart Georgetown's philosophy of "contemplation in action" and mission to serve as "people for others."
Inspired by this pivotal campus leader, David (L'88) and Heidi Jacquin have made a $10M gift to create the Robert J. Henle, S.J. Scholarship for undergraduate students at Georgetown University.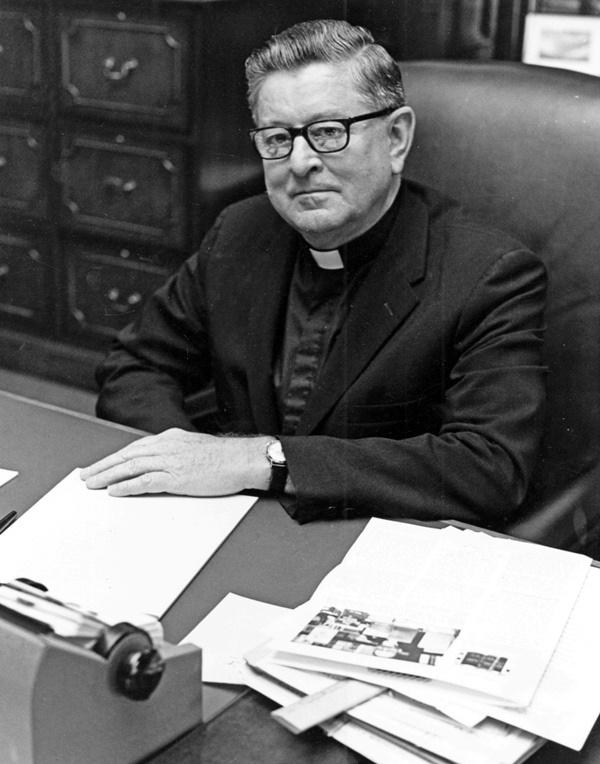 "We are deeply grateful for the extraordinary generosity and vision that the Jacquins have shown with their establishment of the Robert J. Henle, S.J. Scholarship," said Georgetown President John J. DeGioia. "This scholarship will have an important impact in the lives of our young people.  It's wonderful that David and Heidi have chosen this profoundly meaningful way to honor the legacy of Fr. Henle, and to advance the vital work of expanding equity and access here at our University."
President Henle's legacy
Henle, who passed away in 2000, began his career as a classics and philosophy professor at St. Louis University, later serving for 10 years as academic vice president.
When he came to Georgetown in 1969, he brought with him the fresh perspective of an outsider and steered the university through a period of great transformation for the student body, the faculty, and athletics.
In addition to overseeing the university's transition to co-education and inviting women and lay people onto the university's board of directors, Henle supported the newly formed Community Scholars Program and Black Student Alliance, and established an affirmative action committee. He also inaugurated the Faculty Senate, a university-wide governance body that considers academic, administrative, and financial issues.
And in 1972 Henle made the groundbreaking decision to hire John Thompson Jr. to coach the men's basketball team, making Thompson one of the first Black coaches at a major college and laying the foundation for Georgetown to become a national basketball powerhouse.  At the press conference, Henle cited Thompson's "proven ability as a coach, manager, inspirer, and leader of young people." Thompson, who passed away in August 2020, became the first Black coach to win the Division I national title in 1984 and is remembered as a civil rights icon.
But it was his commitment to broadening access to Georgetown for students from less-privileged backgrounds that touched David Jacquin personally and inspired him to make a Georgetown education a possibility for future generations of promising students.
Paying it forward
David Jacquin grew up in St. Louis and attended St. Louis University. It was there that he first met Fr. Henle, who encouraged him to attend Georgetown Law Center.
"He took a chance on me when I was an undergraduate and put me on the path to Georgetown. I'll never forget that," recalls Jacquin, whose first time on a plane was when he visited the Hilltop. "There's something magical about the campus—I still feel that today when I return."
His wife, Heidi, adds, "We give to Georgetown so that more students like David can spread their wings. When the universe gives you something tremendous, you pay it forward. Doing that creates more goodness."
A gift of gratitude
After Jacquin graduated from Georgetown Law, he spent the first part of his career at a top New York law firm. A specialist in mergers and acquisitions, in 2004 he founded North Point Advisors in San Francisco, where he serves as managing director.
"Georgetown has a reputation as a phenomenal institution so my degree launched my career and changed my life. That's not just a line—it's absolutely accurate," he explains. "I'm thankful for what Georgetown has done for me and my family. I want others to gain the same opportunities I did."