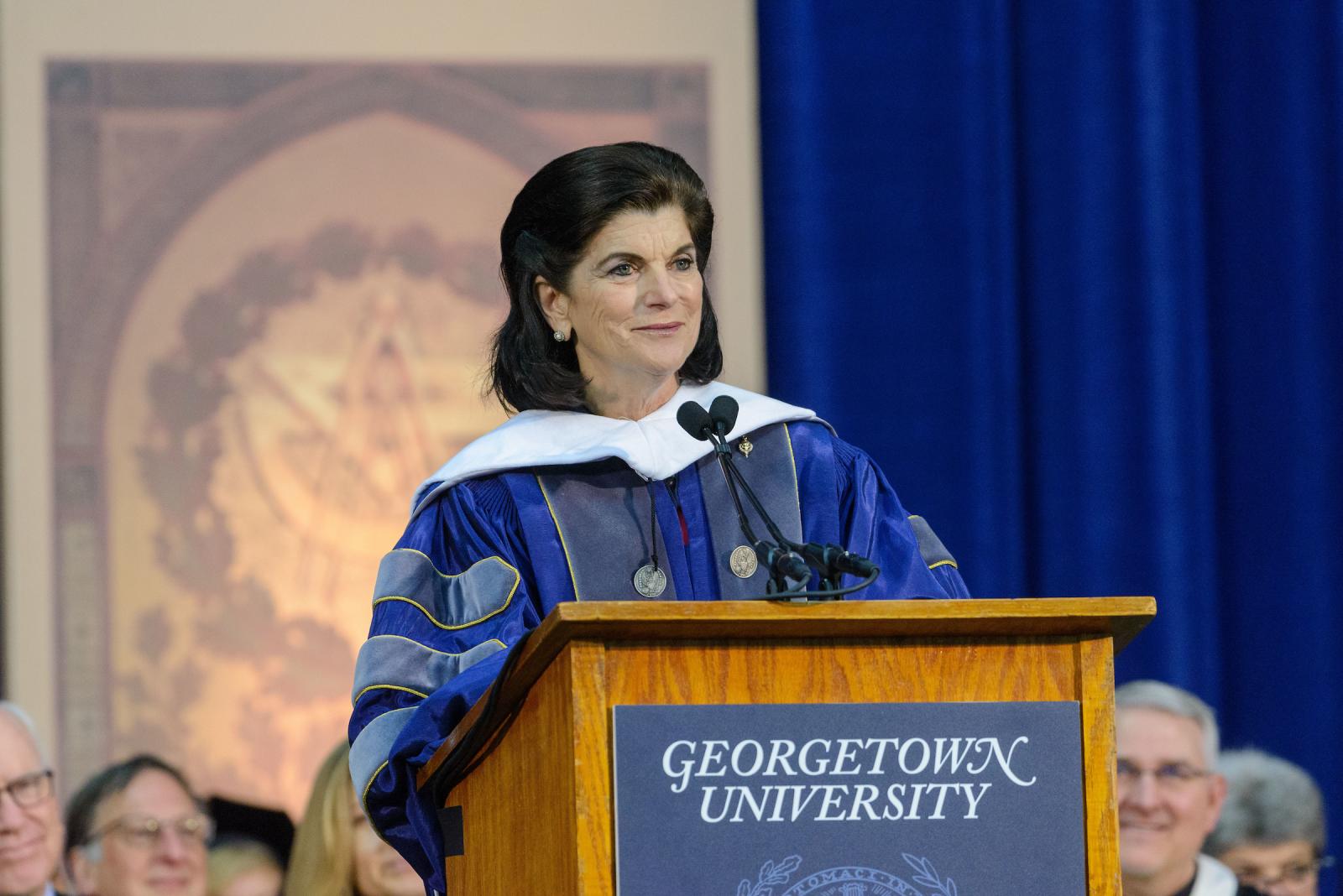 Category:

Alumni Profile, Financial Aid & Student Success
Title:

$1M gift will support nursing students who serve geriatric and vulnerable populations
Date Published:
June 9, 2020
With COVID-19 taking a disproportionate toll on elderly patients and underserved communities, Luci Baines Johnson (NHS'69, H'18) and Ian Turpin's gift to the School of Nursing and Health Studies comes at a critical moment.
Above: Luci Baines Johnson (NHS'69, H'18) was the 2018 commencement speaker for the Georgetown University School of Nursing and Health Studies.
Luci Baines Johnson (NHS'69, H'18)—daughter of President Lyndon B. Johnson and Lady Bird Johnson—and her husband, Ian Turpin, have made a $1M gift to the Georgetown University School of Nursing & Health Studies (NHS). The Johnson/Turpin Fellows Endowed Fund supports scholarships for graduate students who have a demonstrated interest in serving adult and geriatric populations, along with other underserved communities.
"By supporting these scholarships for graduate students of our School of Nursing and Health Studies, Luci and Ian are making meaningful contributions to improving the health of our local, national, and global communities," said Georgetown President John J. DeGioia. "We are deeply grateful for their extraordinary generosity in providing this vital support for our students as they seek to further develop their skills, pursue new expertise, and fully realize the positive impact they will have on our world."
The gift will empower NHS students to meet the challenges of caring for a rapidly aging population during a time when COVID-19 puts them at a higher risk for complications. By 2050, the number of Americans aged 65 and older is projected to reach 88.5 million, more than one-fifth of the population, according to the U.S. Census Bureau. To meet the health care needs of seniors, the United States requires an estimated 3.5 million health care providers with expertise in gerontology, the study of aging, by 2030, reports the Institute of Medicine.
"The geriatric nursing workforce is going to be really important, given the demographic changes in the U.S." says Carole Roan Gresenz, interim dean of NHS and a professor in the Department of Health Systems Administration.
COVID-19's effect on the American health care system
In addition to the challenges of a rapidly aging population, the COVID-19 pandemic has further exacerbated strains on the U.S. health care system. "Nurses have really been the frontline of our nation's response to COVID-19," says Gresenz. "I'm inspired by the sacrifice that our nurses are making and the selflessness with which they act. They are really exemplars of Jesuit values."
Gresenz believes that NHS graduates who understand health care systems, access, cost, and quality will soon be in high demand by the workforce. "We are poised and ready to educate the next generation of health care leaders," adds Gresenz. "Scholarships are key to making that happen."
Luci Baines Johnson says she is grateful for a way to help the health care workforce during this time of immense suffering. "This has given me an opportunity—in a time when so many people my age can feel a sense of uselessness—to feel a sense of purpose."
Support for future health care workers
The gift will support NHS graduate students who have difficulty securing financial aid, which in turn can slow their graduation time or reduce the likelihood that they will continue on to further education.
Mary Haras, associate professor and chair of the Department of Advanced Nursing Practice, says the gift will help distance-based learners in the online Adult Gerontology Acute Care Nurse Practitioner (AG-ACNP) program provide primary care services to patients in rural and underserved areas.
"This program really embodies cura personalis," care of the whole person, "and care of vulnerable populations," says Haras. "The scholarship will help those students who may not otherwise be able to attend Georgetown to gain knowledge that they can put to use in the geographic areas where they live."
Edilma Yearwood, associate professor and chair of the Department of Professional Nursing Practice, says the gift will help support students in the Clinical Nurse Leader Master of Science Program, who train to assess health care systems for quality and safety issues. Clinical nurse leaders improve the quality of life for people in nursing homes and safeguard patients from harm in hospitals.
"Students in this program are going to be leaders at the bedside of their patients," says Yearwood. "If we can alleviate their debt burden, they can do the hard work that they prepared for without distraction."
A lifelong commitment to nursing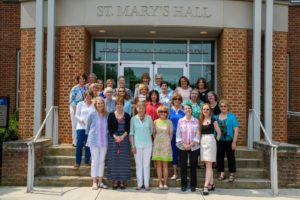 In 1965, Johnson began her undergraduate studies in nursing at Georgetown but decided to marry, which was not permitted then for nursing students during the early part of their education. Johnson and Turpin's gift honors the Class of 1969, especially Johnson's classmate, friend, and mentor, Ellen Eggland (NHS'69).
"If our gift helps to create great nurses like Ellen, then we will have given back to Georgetown the grace and purpose Georgetown gave to me," says Johnson.
Johnson has been an advocate for nurses throughout her life, including testifying for Nurse Practitioner programs before the United States Congress. She was the first non-nurse to serve on the National League of Nursing Accreditation Board, is an honorary member of the Sigma Theta Tau International Honor Society of Nursing, and served on the Board of Visitors for both Georgetown and the University of Texas at Austin School of Nursing. She received an honorary degree from NHS in 2018 and delivered the 2018 commencement address.
"I am so proud of the nursing profession, and so thankful to have had a 55-year association with them," says Johnson. "Cura personalis has truly been embraced by NHS students, and I will be forever grateful to have been among them."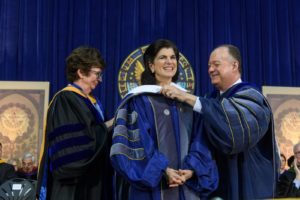 Johnson personally cared for her ailing mother and mother-in-law for the last five years of their lives. She adored the responsibility, as she did these important people in her life, but it left her with an added appreciation for the value of and demands on caregivers. This experience renewed her commitment to health care students, especially those with limited resources. "I have raised my children, as my parents raised me, with the belief that to whom much is given, much more is expected," shares Johnson. "The cause of nursing is just and the time to support them is now."
Johnson was a featured speaker during John Carroll Weekend Austin, where she participated in an event at the Lyndon B. Johnson Presidential Library. For one semester in 1934, her father studied at Georgetown Law, the school in which her grandson is currently enrolled.
"Georgetown has touched our family's heart for three generations," adds Johnson. "Being part of this institution has really been a lifelong blessing."
Please help ensure that Georgetown can fulfill its mission at this challenging time.
We want to hear your story
Amid the challenges and upheaval of 2020, how has your life been affected?
Related Stories
Financial Aid & Student Success
Financial Aid & Student Success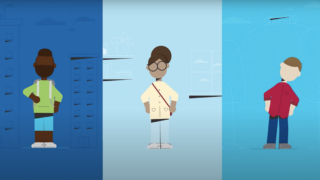 Financial Aid & Student Success