Category:

Campus & Community, Transformative Opportunities
Title:

$5.4M gift to strengthen Tech & Society Initiative, Institute for Women, Peace, and Security
Date Published:
February 11, 2020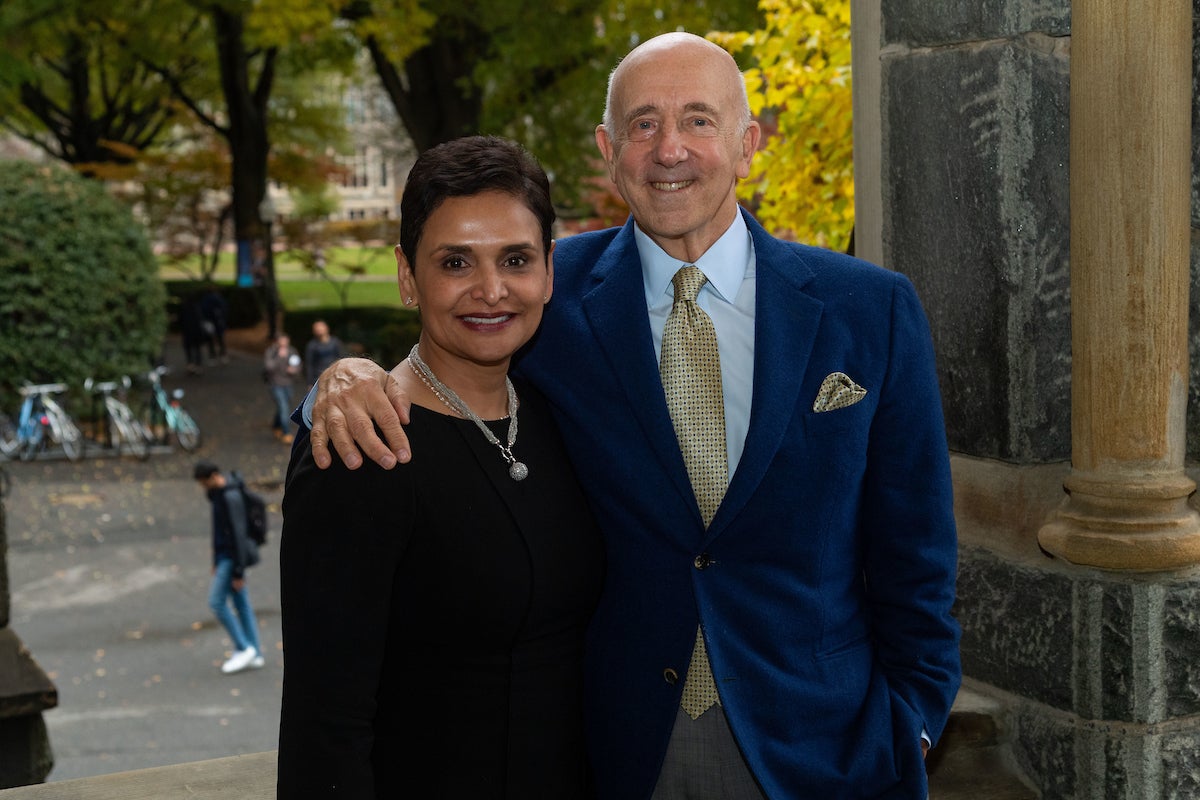 Georgetown's groundbreaking work in ethical technological innovation and international women's development and peacekeeping efforts will get a $5.4 million boost, thanks to a gift from Anisya (Parent'11) and Lynn Fritz (C'64, Parent'98, '11), longtime leaders in the Georgetown community.
Five million dollars of the gift establishes the Fritz Family Fellows Program within the Georgetown Initiative on Technology & Society, a joint effort among Georgetown's three campuses and nine schools to harness technology for the betterment of humanity. The fellowship program aims to cultivate the next generation of leaders with expertise in the social impacts of technology, and build a network of public interest technologists who learn from and support each other's work.
An additional $400,000 creates Georgetown Ambassadors for Women, Peace, and Security, a dynamic community of influential leaders who support and amplify the cutting-edge work of the Georgetown Institute for Women, Peace, and Security to put a gender lens on issues of diplomacy, defense, and development. The Fritzes say they hope that the council will strengthen women's leadership within the Georgetown community, as well as abroad.
"I feel extremely strongly that there should be a women's lens on any public policy," says Lynn Fritz.
"The Fritz family's generosity in supporting the work of our Institute for Women, Peace, and Security and our Initiative on Technology & Society will deepen the capacities of our university to positively impact our global community and contribute to solutions on issues central to a more peaceful world," said Georgetown President John J. DeGioia. "We are grateful for their leadership and the many ways that their contributions will inspire our students and faculty, and future generations, to pursue opportunities to advance the common good."
Investing in the future
Living out the Jesuit value of service to others, the Fritzes have enjoyed a sustained relationship with the university.
Lynn Fritz, a 1964 graduate of Georgetown College, served on Georgetown's Board of Directors for seven years. Anisya Fritz has spearheaded and co-hosted the Georgetown in Wine Country event, and will serve as chair of Georgetown Ambassadors for Women, Peace, and Security. Their experiences have given them confidence in the university's ability to successfully steward the initiatives their gift supports.
"Georgetown has the kind of leadership required to take on complex issues in a collaborative manner with many lenses, and to drive resources from the highest level of the university," says Lynn Fritz. "When you combine servant-leadership and complex problems, the chances of getting things done are very high."
"We see this as an investment in the future of our country and our world," adds Anisya Fritz. "And we have invested with confidence."
Tackling tech's interdisciplinary questions
A key strategic initiative of the university, the Tech & Society Initiative establishes a foundation at the intersection of technology, ethics, law, and public policy, with numerous centers within the university. These centers consider how to design rules and governance structures to prevent and mitigate unintended consequences of emerging technologies, as well as harness technology's positive outcomes.
The contributing programs of this initiative include the:
The Fritz family's investment will seed collaborative projects across these centers through the work of interdisciplinary fellows.
Georgetown Provost Robert Groves described the fellows as a key part of Georgetown's work in this area.
"We had a collection of faculty successfully launching individual initiatives, who realized their individual success could be advanced through collaboration," says Groves. "The Fritz Family Fellows Fund is the catalyst to that collaboration. It creates the glue of undergraduate and graduate research assistants and postdoctoral fellows working side-by-side with faculty from multiple groups to propel Georgetown's contribution to improving society's use of technology for the common good."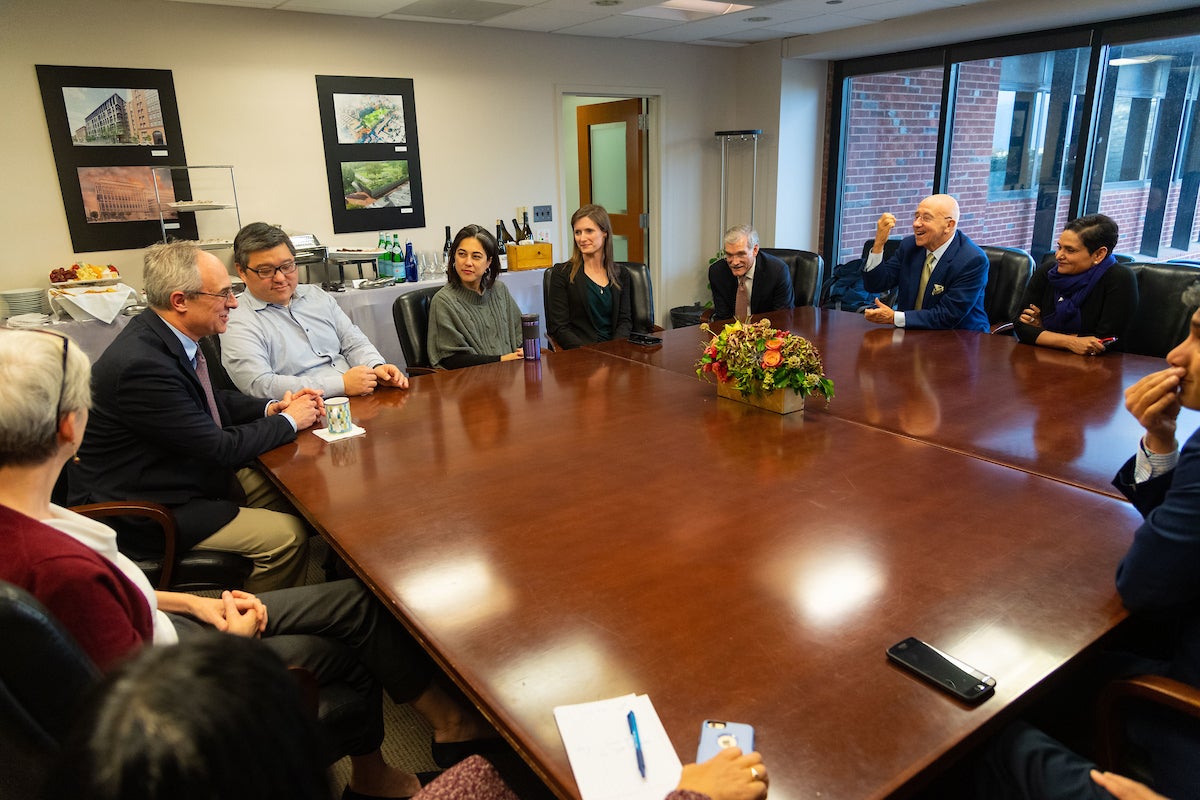 "The Fritz Fellows are also to be a key component of successful coordination of Georgetown's unique and integrated approach to this extraordinarily important global mission," Lynn Fritz added.
The Fritzes have seen firsthand the power of interdisciplinary thinking as co-founders of both LynnCo Supply Chain Solutions, a company that supplies logistical solutions for humanitarian aid projects, and the Fritz Institute, a nonprofit organization that works with governments, nonprofit organizations, and corporations to improve disaster response and recovery.
"I've never seen an initiative or an action ever be successful that is taken from a siloed approach," Lynn Fritz says. Success in complex undertakings requires "using many lenses to create knowledge and come up with answers."
Anisya Fritz agrees. "Combining expertise to look at the same problem is exciting for us, especially with the values-based thinking that Georgetown embodies," she says.
As active members of the Bay Area Georgetown community that gave rise to the Georgetown Technology Alliance—inspired by the Wall Street Alliance—the Fritzes view Georgetown's ethical, policy, technical, and regulatory expertise as vital to ensuring that societal values evolve with technological changes.
Lynn Fritz adds that Georgetown's location in the nation's capital uniquely positions the university to influence the regulation and governance of technologies such as social media platforms.
"It is remarkably appropriate to have a Jesuit organization like Georgetown address this global and complex issue," he says. "I couldn't think of a better institution to do this work."
Building bridges to empower women
Launched in 2011, the Georgetown Institute for Women, Peace, and Security (GIWPS) housed within the Edmund A. Walsh School of Foreign Service works towards a more stable, peaceful, and just world by focusing on the important role women play in preventing conflict and building peace, growing economies, and addressing global threats like climate disruption and violent extremism.
The Georgetown Ambassadors for Women, Peace, and Security seek to understand and advance women on the frontlines of global change. Through conferences and travel, Georgetown Ambassadors will work to increase women's participation in peace and security, the economy, and political leadership.
"We had three goals," shares Anisya Fritz, a respected scholar on the global system of humanitarian relief, competitive strategy, and international entrepreneurship. "One is to support the global force of amazingly talented and influential women that lead from a values-based point of view. Another is to amplify the important work of the Georgetown Institute for Women, Peace, and Security. The third is to create a community that can learn together and inspire and mentor students entering the field. It's a mutually reinforcing and contributing group."
Ambassador Melanne Verveer, executive director of GWIPS, lauded the Fritz family for supporting a women's leadership council with global reach. "This will enable members of our Georgetown community to experience firsthand the vital work of women peacebuilders around the world from Afghanistan to Colombia—women who are on the frontlines of change," she says. "Anisya and Lynn Fritz's commitment will enable the GIWPS to provide an exciting opportunity for our Georgetown family to have greater impact for others."
"I'm inspired by Ambassador Verveer's leadership and vision," says Anisya Fritz. "As the world becomes more fractured, understanding the role women can play in building bridges can only be helpful."