Category:

Stewardship Investment Report
Title:

Celebrating 25 Years of Teamwork
Date Published:
April 12, 2018
The Ed & Irene Shaw Women's Soccer Scholarship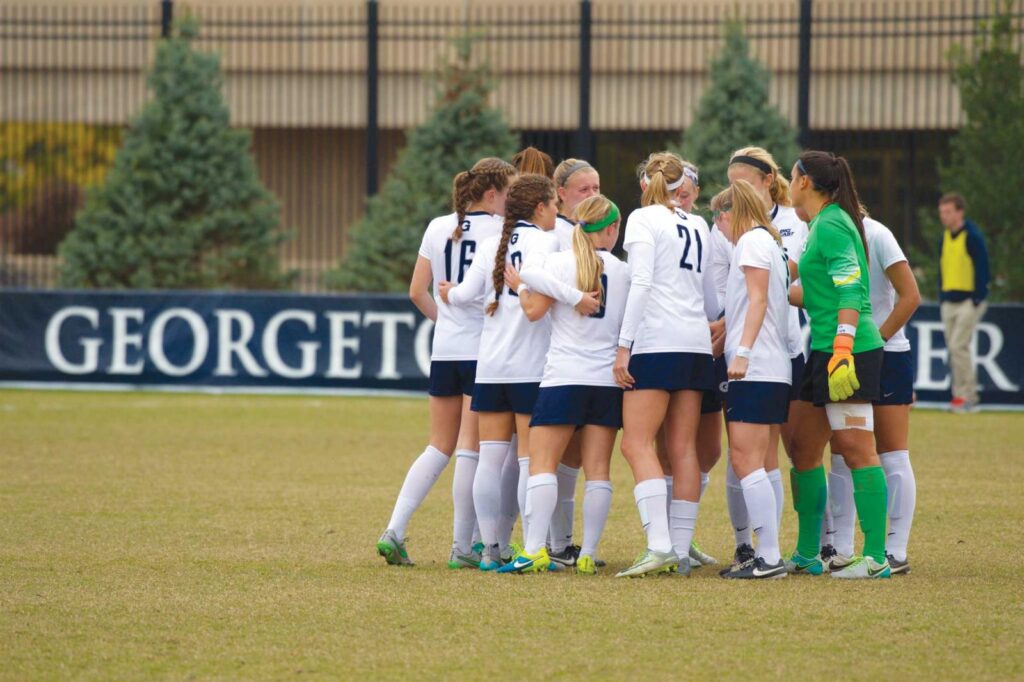 Last year, the Georgetown Women's Soccer team won the BIG EAST Championship for the first time in program history and later advanced to the Final Four in the NCAA College Cup when they beat Santa Clara on November 26, 2016, at Shaw Field.
The entire Shaw family was in attendance for that win: Ed (C'66) and Irene, their five children—Hope (C'94), Holly (C'98), Julia (C'98), Christopher, and Rory—as well as most of their 15 grandchildren.
"Georgetown Women's Soccer has gone from an experiment to a nationally ranked program. As the team builds on this success, I'm pleased that the John R. Thompson Jr. Intercollegiate Athletic Center is here to serve as a gathering space for all of Georgetown's student-athletes."
"After the game we all ran onto the field to celebrate with the team. Well, all the grandchildren who could run…" shares Irene Shaw with a laugh. "I'll never forget that moment or that historic win. It's amazing to think about how far they've come."
In the mid-1980s, women's soccer was a club sport at Georgetown— and it might have remained so were it not for the advocacy and philanthropy of Ed and Irene Shaw. Aided by hand-written student petitions, the Shaws began urging then Athletics Director Frank Rienzo to consider adding women's soccer to the varsity offerings, citing Title IX as well as the popularity of the U.S. Women's National Team.
Finally, Georgetown Athletics agreed to try it out on an experimental basis as a spring sport. After three years, the experiment proved to be successful, and with the Shaws' generous financial support of women's soccer, including The Ed & Irene Shaw Women's Soccer Scholarship, Georgetown launched a varsity team with a dedicated head coach and, eventually, an NCAA-worthy field aptly named Shaw Field.
"Georgetown Women's Soccer has gone from an experiment to a nationally ranked program. As the team builds on this success, I'm pleased that the John R. Thompson Jr. Intercollegiate Athletic Center is here to serve as a gathering space for all of Georgetown's student-athletes," adds Ed Shaw, who has already seen the impact of their $5 million contribution to the center and Shaw Field. "All of the varsity athletes are more united now. They are supporting one another."
The Shaws regularly return to campus for games and special events, showing their Hoya pride. "I'm in close contact with the Shaws because they are such true and loyal fans," says Coach Dave Nolan. "They allowed us to get in the game 25 years ago. Their scholarship giving going back to 1993 has helped our recruiting efforts and made our program much stronger. I'm excited for what the future holds."