Category:

Stewardship Investment Report
Title:

Education as a Springboard
Date Published:
April 13, 2020
The Alice & Russell True Endowed Scholarship in the School of Medicine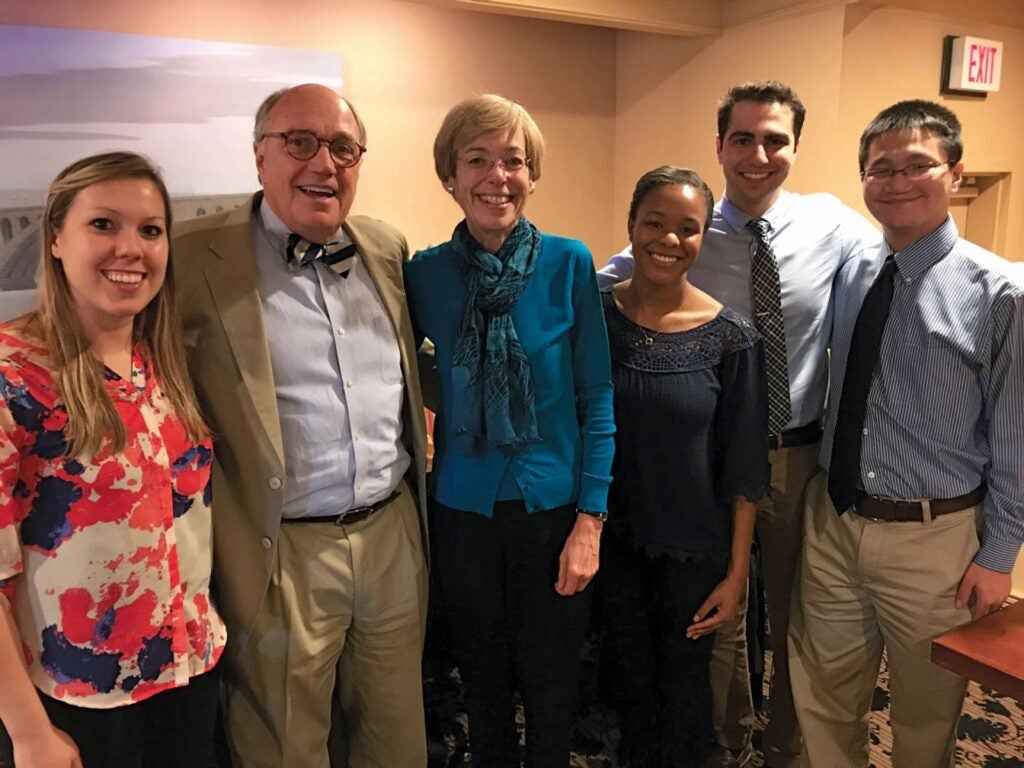 "My parents instilled in both me and my siblings the importance of giving back and the importance of a sound education as a springboard to whatever endeavor one pursues," shares Alice "Wendy" True Gasch (M'92) about her late parents, Alice and Russell True. "Providing a scholarship at Georgetown School of Medicine embodies both of those values."
In 2000, Gasch established the Alice & Russell True Endowed Scholarship in the School of Medicine in honor of her parents. Today the schol- arship is the fifth-largest donor-funded scholarship in the School of Medicine, having helped more than 25 promising medical students to date pursue their dreams at Georgetown without significant student debt. Like her parents, Gasch's life has been defined by unbridled curiosity, a love of learning, and a steadfast commitment to the service of others.
She began her career as a research correspondent for the National Geographic Society, covering stories all over the world, and later returned to school to become a nutritionist. After excelling in her first two careers, Gasch decided to pursue her longtime interest in medicine, eventually enrolling at the School of Medicine. Today, she is a board-certified ophthalmologist and clinic chief on the eye condition uveitis at MedStar Washington Hospital Center.
She has also traveled around the globe to provide eye care to those in need in India, Azerbaijan, Mexico, Benin, and Sierra Leone. In the District of Columbia, she has volunteered at the eye clinic at So Others Might Eat (SOME), an interfaith, community-based organization serving the poor and homeless of Washington, D.C. True Scholarship recipients often echo Gasch's desire to serve others through medicine—and the importance of education as a springboard for their vocation.
John Paul Mikhaiel (C'14, M'20) says that the True Scholarship is allowing him to pursue his interests in medicine with an eye toward improving the provision of health care through clinical work and research. Much like the True family, he seeks to be an active contributor to improving society through service. Through his participation at the HOYA Clinic, Mikhaiel saw firsthand the difficulties facing underserved communities when accessing necessary health care services. This inspired him to address their needs by helping those on the ground and advocating for systemic change. "I am confident that a starting point for many of these communities is proper health care," notes Mikhaiel, "so that the individuals can begin to get back on their feet and feel more stable."
Priya Mehta (M'20), another True Scholarship recipient, similarly aspires to a medical career that upholds the humanity of every patient. "When I think about the School of Medicine, I instantly think about holistic care. I think of compassionate healers who listen to the patient and their story," she says. This recognition of "the living, breathing person behind the illness…reminds me that it is that person we are working to better, rather than a puzzle we are trying to solve."