Category:

Teaching & Research
Title:

Georgetown parents give $25M to create Americas Institute
Date Published:
August 7, 2020
Monica and Rolando Gonzalez-Bunster's gift will advance research, teaching, and impact in the hemisphere
Longtime Georgetown supporters Rolando (C'68) and Monica Gonzalez-Bunster (Parents'00, '05, '14, '16) have committed $25 million to establish the Americas Institute at Georgetown University, creating a cross-disciplinary platform for the university's work on Latin America and the hemisphere.
"As the prime learning institution in the nation's capital and one of the leading universities in the United States, Georgetown is positioned to be a center of influence, thought, and innovation for the Americas and the rest of the world," says Rolando Gonzalez-Bunster. "I'm a firm believer that Georgetown can always make positive changes because of those who run it, teach in it, and attend it."
"We're deeply grateful to Monica and Rolando for their vision and their longstanding commitment to strengthening Georgetown's work as a global University, poised to advance the common good and meaningfully contribute to transnational issues," says Georgetown University President John J. DeGioia. "The creation of the Americas Institute builds on our University's decades-long commitment to Latin America, and will provide extraordinary opportunities for our students and faculty, who are deeply engaged in important work in the region."
A partner for the Americas
The institute will bring Georgetown's existing Center for Latin American Studies (CLAS) and Latin American Leadership Program (LALP) under a university-wide umbrella that connects with other programs, including the Law Center's Center for the Advancement of the Rule of Law in the Americas (CAROLA) and the Americas Initiative in Georgetown College.
"We want to maintain the rigor of academic disciplines but also bring them together in important configurations," says Christopher S. Celenza, Ph.D., D.Phil, dean of Georgetown College and professor of history and classics. "The world's problems can't be solved by just one discipline. We are committed as an institution to making the most of our global mission."
The institute aims to advance research, teaching, and impact in the Americas across three strategic pillars: governance and the rule of law, economic growth and innovation, and social and cultural inclusion.
Major goals of the institute include improving transnational cooperation with Brazil, Mexico, and other key partners on issues related to climate change, global health, migration, international trade, and technological innovation.
Vice President for Global Engagement Thomas Banchoff, Ph.D., believes that present conditions make now the right time for Georgetown to intensify its engagement with the region.
"The positive trends in terms of democracy, growth, and innovation that Latin American countries have experienced in the last decades have slowed in recent years," says Banchoff, also a professor in the government department and the Walsh School of Foreign Service (SFS). "Georgetown is positioned to be a partner for research, education, and dialogue as the region looks to the future."
SFS Dean Joel Hellman, Ph.D., emphasizes the importance of focusing the institute's work not just on Latin America in isolation but on the challenges facing the hemisphere as a whole.
"We want to create a platform for a two-way dialogue," says Hellman. "It's not about the U.S. teaching Latin America. We need to listen to multiple voices from Latin America and build the future together."
Preparing students for the global economy
"We should be the place and point of reference where the world comes to learn about what happens in Latin America," says Ricardo Ernst, Ph.D., a 32-year Georgetown faculty member and native of Venezuela who feels heavily invested in Georgetown's potential impacts on the region. Ernst currently serves as Baratta Chair in Global Business, director of the Global Business Initiative, managing director of the Latin American Board, and head of Latin America Leadership Program (LALP).
To ensure the Americas Institute becomes what Gonzalez-Bunster calls a "fountain of influence," the gift will fund a faculty chair, strategic research and outreach programs, and scholarships for students enrolled in the LALP and CLAS programs.
"This is going to increase opportunities for scholarships in all of our programs, especially as we draw more students from Latin America," says Rev. Matthew Carnes, S.J., Ph.D., associate professor of government and CLAS director. "We're excited to increase the diversity of our student body for whom finances have been a barrier."
Placements and immersion trips for students in the region will prepare them for future careers with an inter-American dimension.
"Our students are eager for deeper global experiences," says Paul Almeida, Ph.D., dean of the McDonough School of Business. "They understand the growing importance of intercultural skills for their future careers."
The Jesuit dimension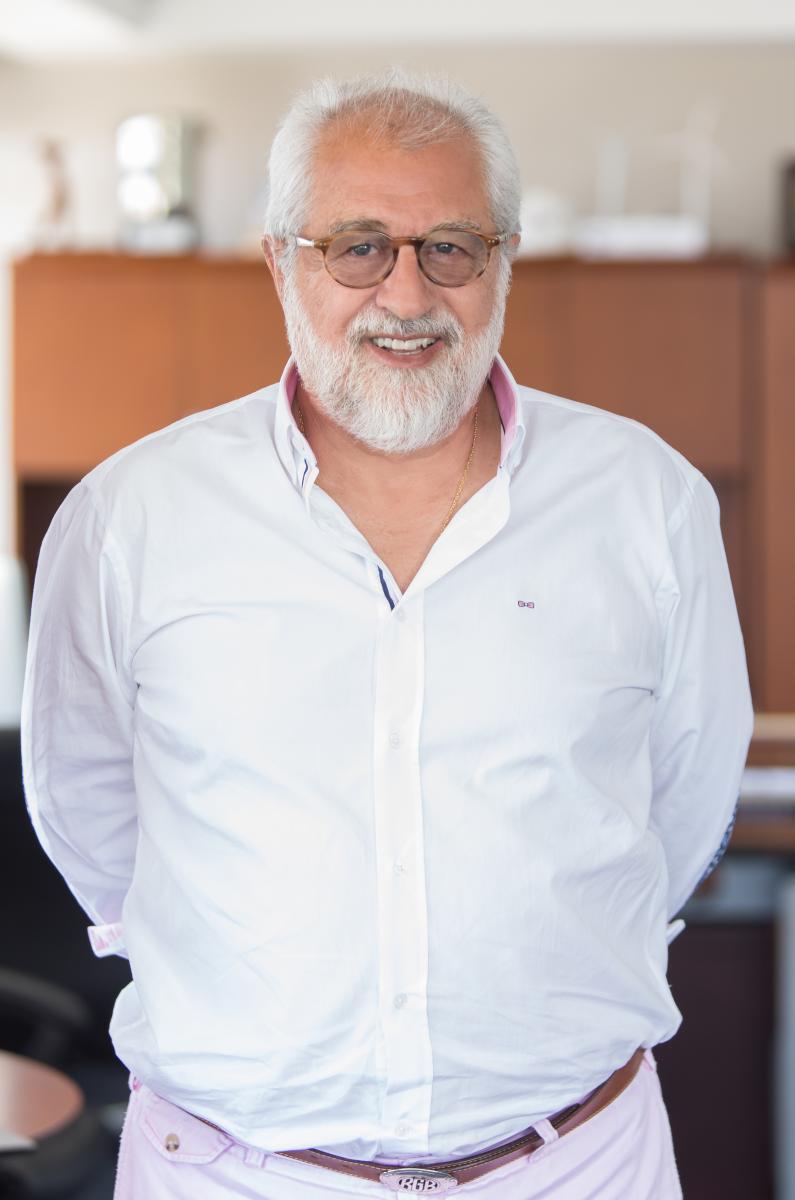 Rolando Gonzalez-Bunster is father to four Georgetown graduates, father-in-law to two other Hoyas, and a longtime supporter of the university. He sits on the College Board of Advisors, the Italian Research Institute Board, and has for the past seven years been a member of the Latin American Board, which seeks to develop and strengthen the relationship between the university and Latin America through partnerships and the execution of high-impact initiatives on campus and in the region.
Gonzalez-Bunster is an alumnus of the "illustrious class of 1968," as he calls it, and now serves as the founder, chair, and CEO of InterEnergy Group. He credits his lifelong Jesuit education for shaping his perspectives.
"I believe that if I have been able to succeed in the world, a lot had to do with Georgetown's influence," he says.
Growing up in Argentina, Gonzalez-Bunster lived amidst numerous Catholic and Jesuit institutions in capital cities of Latin America, a region that has the highest concentration of Jesuit universities in the world.
He sees Georgetown as well-positioned to bridge North and South America through collaboration with Latin American Jesuit universities that embody a commitment to service and society.
"Georgetown has the ability to interact very effectively with Jesuit institutions throughout Latin America," shares Gonzalez-Bunster. "I see Georgetown as being able to serve as a focal point of knowledge and change for the better."
Father Carnes agrees that the institute's goals align closely with Georgetown's Jesuit mission.
"From our founding days, students from Latin America enrolled at Georgetown," he says. "The Jesuit impulse is always to go out and engage the world, to enter deeply into contexts to understand how God is working there. The Americas Institute will allow us to make a greater impact."