Category:

Teaching & Research
Title:

'Changing the Game'
Date Published:
November 12, 2019
New gift supports educational innovation with research, award, collaborative chairs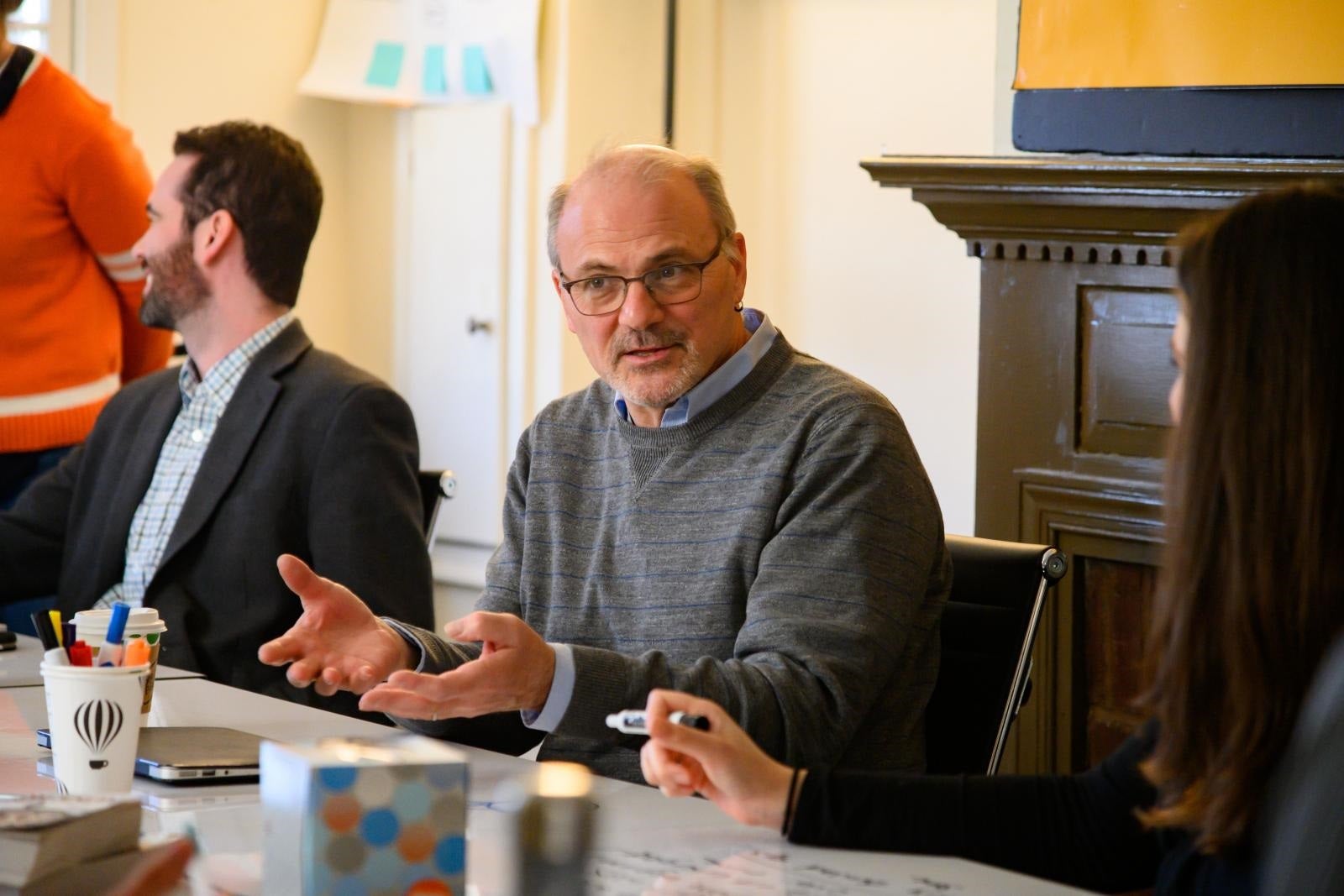 Educational innovation, collaboration among faculty across disciplines, and an award to recognize trailblazing Georgetown faculty members will be supported through a generous donation from Karen and Bill (B'92) Sonneborn.
Inspired by the work that Vice Provost Randy Bass is doing through the Red House with Georgetown's Designing the Future(s) of the University initiative, the couple recently established The Sonneborn Innovation Fund.
"We want to recognize great inter-disciplinary teaching, research, and curricular innovation," says Bill Sonneborn, who notes that he and his wife were both raised by college academics.
A current member of the university's Board of Regents and Georgetown Entrepreneurial Initiative and a former member of the Board of Advisors for the McDonough School of Business, he says it has "been my pleasure to work closely with Vice Provost Bass on the Board of Regents' Educational Innovation and Transformation Committee."
"Karen and I have seen firsthand how Georgetown professors are changing the game, finding new ways of reaching students, and preparing them to solve important global challenges," he adds.
"Bill and Karen's generosity will enable our faculty to explore new innovative approaches to teaching and deepen our commitment to providing the very best learning experiences for our young people," says Georgetown President John J. DeGioia. "We are grateful for their efforts to encourage collaboration and creativity across our University, and for their steadfast leadership on behalf of our community."
Solving challenges with innovative models
The Sonneborn Innovation Fund will be used to support new and ongoing Red House initiatives that tackle some of the systemic problems surrounding higher education.
The Sonneborns say they took inspiration from the Regents Science Scholars Program, led by Heidi Elmendorf, a professor of biology and senior advisor to the president for equity in education. The program addresses the critical shortage of underserved and first-generation students in the sciences.
Conversations with Bass and Elmendorf reinforced "the importance of educational equity for all gender, socioeconomic, and racial backgrounds," Karen Sonneborn explains. "We want to get the most talented students to the Hilltop, regardless of background."
The Sonneborns also hope to support an exploration of new approaches to the traditional liberal arts curriculum, including Core Pathways, which permits undergraduates to organize their core requirements around a unifying global challenge, such as climate change. Students approach the challenge from various disciplinary perspectives and gain access to a digital platform of curated resources and opportunities.
"A liberal arts education is about solving problems through thinking differently," adds Bill Sonneborn. "It's time to collect data and measure the impact of the important R&D work and pilot projects that the Designing the Future(s) initiative has run in the five years since its creation."
Breaking silos with Distinguished Collaborative Chairs
To facilitate connection among faculty across disciplines—a major priority for innovation work, according to Bass—the Sonneborn Innovation Fund will establish a set of rotating Distinguished Collaborative Chairs. These pairs or teams of colleagues will work together for three-year terms to pilot new models for research and teaching on campus.
"Bill and Karen understand that the silos at a university can sometimes be an impediment to innovation and transformation," explains Bass. "That's what we are excited to do here. It will give two or more faculty members, with a history of collaboration, the opportunity to extend their work together—in both research and mentoring students in that work—and become agents of change at the university. The idea of a distinguished term chair honoring two people from two different fields may be unique in higher education."
Recognizing success with an Innovation in Teaching Award
The Sonneborn Innovation Fund also supports a new Provost Innovation in Teaching Award, offering a $20,000 award to a program and $10,000 awards to individuals who are doing exceptional work in terms of new applied learning contexts, new models of collaborative teaching, or other such endeavors.
Bass and Provost Robert Groves selected the following honorees to receive the inaugural awards this September:
The Program Category Award: The Disability Studies ProgramEach semester, the Disability Studies (DS) program's "cluster" approach creates a community of learning and practice by bringing together courses from fields as varied as biology, literary and cultural studies, bioethics, nursing, healthcare administration, women's and gender studies, and anthropology around common readings and visits by scholars, performers, and advocates. The program extends its interdisciplinary reach across Georgetown campuses through new collaborations with the Georgetown University Medical Center and The National Rehabilitation Hospital, and into the community with internships and community-engaged experiences in conjunction with the Center for Social Justice.

Individual Category: James FreericksFreericks is the Robert L. McDevitt, K.S.G., K.C.H.S. and Catherine H. McDevitt, L.C.H.S. Professor in the Department of Physics. His specific innovation focuses on translating complex physics classrooms from a conventional lecture format to an online format suitable for either a MOOC or a flipped classroom. He produced GeorgetownX's course, "Quantum Mechanics for Everyone," ranked ninth on Class Central's top 50 MOOCs of all time. He also produced the 'flipped classroom' experience for Physics 155, "Mathematical and Computational Physics," for students on the Hilltop, where students work through carefully created animation videos and related assessments, before coming to class.

Career Achievement Category: Elizabeth Hervey StephenStephen is a professor of demography at Georgetown University. During her 31-year career at Georgetown, she experimented with keeping her first-year proseminar students together as a cohort across four years, and taught one of the first online courses during the academic year to undergraduates at Georgetown. She also designed a course, "Border and Security Concerns," with three interconnected sections—one on Main Campus, one at Georgetown's Villa Le Balze in Fiesole, Italy, and one at Georgetown University-Qatar.
"We think this award will motivate faculty members to try new approaches," explains Bill Sonneborn. "We greatly encourage the faculty to be creative in thinking through how best to prepare the next generation of global leaders."
About Designing the Future(s) of the University
Designing the Future(s) of the University was created in 2013 with a mission to accelerate educational innovation that allows higher education to more effectively and equitably benefit society. The initiative, funded solely through philanthropy, designs and pilots new models of teaching and learning, empowers students to lead lives of meaning and service, and works to expand access to higher education. For more information visit futures.georgetown.edu.