Category:

Campus & Community
Title:

'This is a New Beginning for the Arts at Georgetown'
Author:
Chelsea Burwell (G'16)
Date Published:
December 5, 2018
The Maria & Alberto de la Cruz Art Gallery Dedication
With the dedication of Georgetown University's new Maria (C'87) & Alberto (B'89) de la Cruz Art Gallery, the family's legacy as art enthusiasts lives on. Located at 3535 Prospect St. N.W., the new gallery was funded by major gifts from alumni and donors who support expanding the university's commitment to the arts. Each semester, the space will offer a featured exhibition from globally and nationally recognized artists and provide a dynamic venue to foster interdisciplinary discovery and global engagement.
Crediting his parents, Carlos and Rosa, for instilling within him an appreciation for the arts, Alberto shared the significance of arts in bringing together the broader community.
"Maria and I are very grateful, because [my parents] opened the doors to this magical world of art," he says. "When we decided to move forward with this space, I realized that I want those who visit this gallery to feel connected to the works featured here; I want them to leave a story behind."
Al Miner, founding director/chief curator of the Maria & Alberto de la Cruz Gallery, echoes that sentiment: "A unique and powerful nexus is possible because of this gallery, which will be a platform for GU, the surrounding neighborhood, and other D.C. art communities to collaborate and promote the visual arts. We want the exhibitions within this space to speak to a diverse audience and embrace interdisciplinarity."
Emphasizing the long-awaited gallery's arrival to Georgetown, Miner adds that the arts are on the rise at the university.
"This has been many years in the making," he shares. "The faculty, students, and alumni of Georgetown really pushed for a large art gallery on campus. With this new gallery, we can make the visual arts just as prominent, celebrated, and renowned as Georgetown's best-known programs."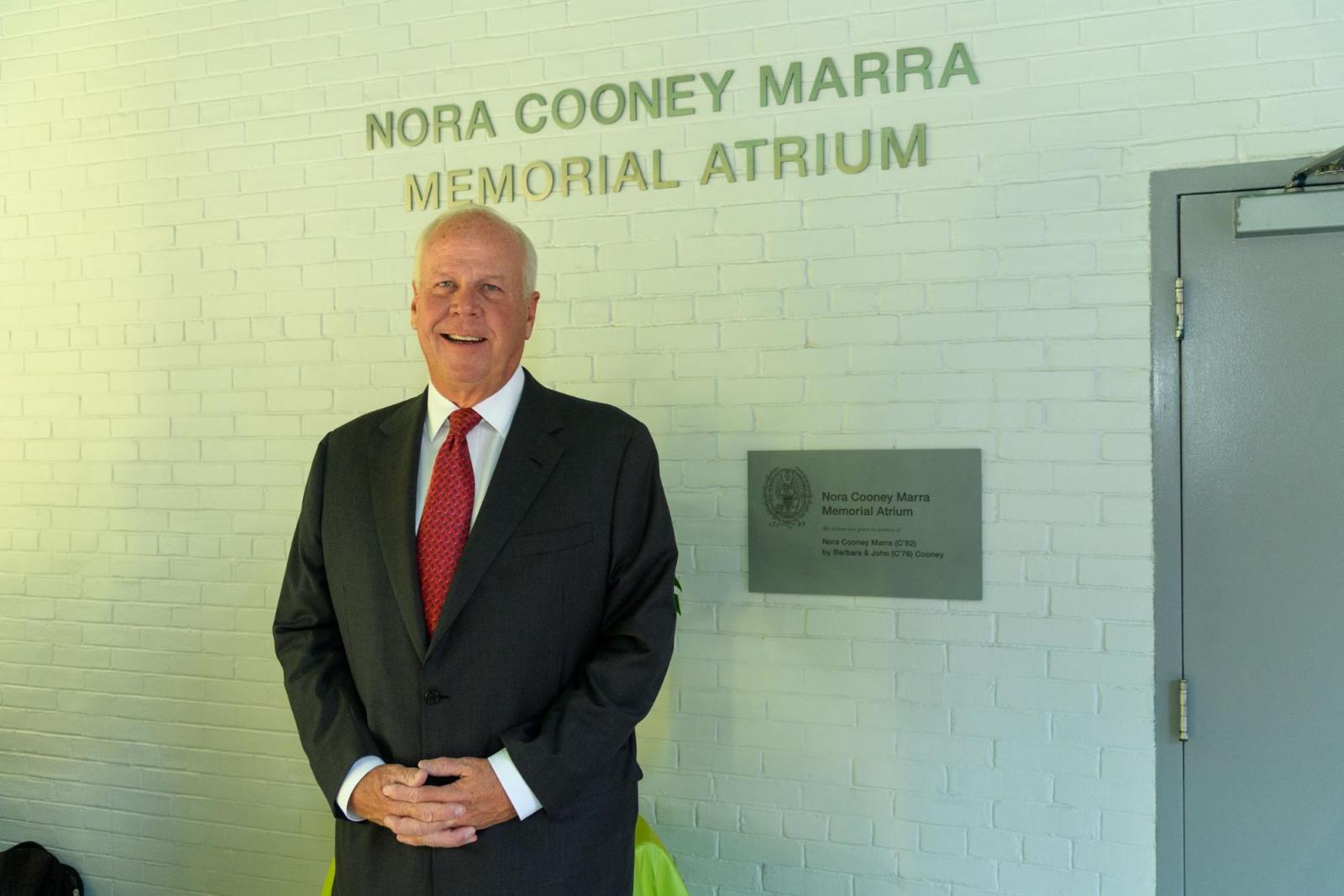 Chester Gillis, former dean of the College, provided leadership support to the development of the new gallery and encouraged the enrichment of the arts at Georgetown before stepping down in 2017.
"I was motivated to create an exceptional space for the arts to thrive here at Georgetown," he says. "The de la Cruzes' long history in support of the arts is truly commendable and treasured. Thanks to their knowledge and vision, and the support of many in the Georgetown community, this art gallery was able to come to fruition."
Gillis, along with members of the Georgetown College Board of Advisors who contributed to the gallery's creation, is honored with a plaque in the Nora Cooney Marra (C'82) Memorial Atrium.
Christopher Celenza, dean of Georgetown College, opened the gallery dedication ceremony and expressed how influential the art gallery will be to the university.
"This is a new beginning for the arts at Georgetown," he shares. "It is a harbinger and a sign of things to come. One of the most powerful ways to relate and communicate with each other is through art, so we look forward to our lives being enriched by the experiences and art featured in this dedicated, beautiful space."
In addition to support from university leaders, Miner adds that alumni involvement drove the completion of this endeavor: "Alumni support is the lifeline to ensuring that the vision for this space is realized to the standards of Georgetown."
Significant gifts for the gallery came from other donors who named gallery spaces, including Tracy and Jay Snyder (Parents'17,'19,'22), Barbara and John (C'76) Cooney, Liliane and Christian Haub (Parents'15), and Marjorie Goodson.
Tracy and Jay Snyder (Parents'17,'19,'22)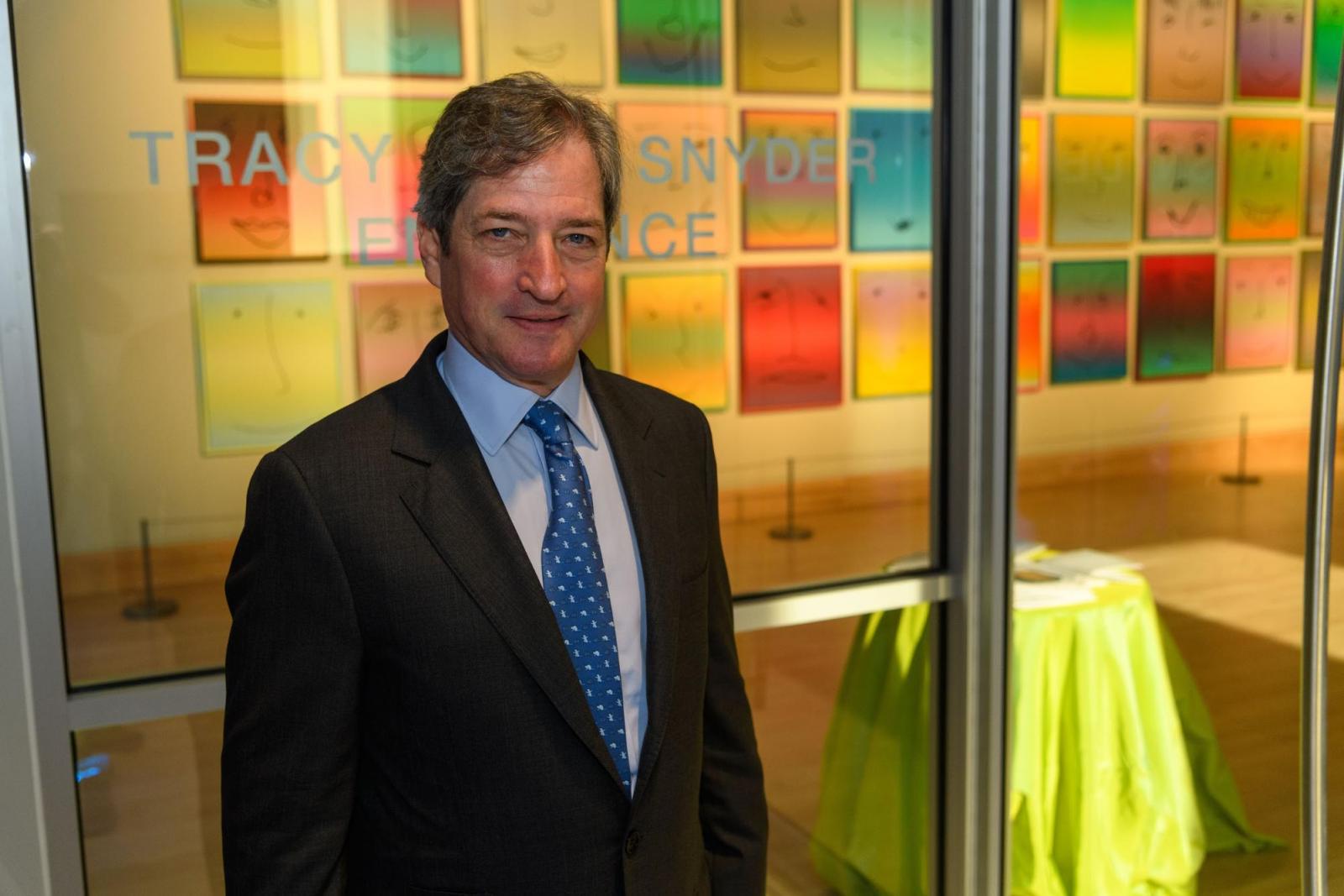 While the Snyder family participates in many initiatives and programs at Georgetown, their involvement in supporting the de la Cruz Gallery and its effort to advance arts education was particularly important.
"Georgetown is near and dear to us," shares Jay Snyder. "We believe that giving back is a responsibility we all hold. And what would the world be without the arts? It gives us a view into other cultures and that allows us to better understand ourselves and the society we live in."
Jay and his wife, Tracy, have three sons—one of whom graduated from the College and two of whom are current students. Hopeful that the gallery will expand on Georgetown's rich and vibrant arts network, Jay applauds the university for its support of the new gallery space as a platform to deepen cross-cultural understanding and spur intellectual curiosity. "Georgetown has created an unrivaled learning environment that molds outstanding young leaders. Because it has given so much to our family, we wanted to do what we can to ensure future generations benefit as much, if not more, from their experience at Georgetown."
Marjorie Goodson
For Marjorie Goodson, an aficionado for the arts, it appeared only obvious for her to support the development of the de la Cruz Gallery.
"As an artist, painter, and dancer, my world is steeped in the arts," shares Goodson. "I grew up surrounded by the incredible painting and sculptures as my father was an avid art collector."
From the moment Goodson visited Georgetown with her daughter years ago, she fell in love and instantly felt connected to the university's "ideologies, energy, and community." After becoming friends with Dean Gillis, Goodson learned about his vision for this project; it wasn't much longer until she was on board.
"I was driven to this project because of my tremendous love of the arts and my overwhelming respect for Dean Gillis' passion and vision. Combining arts and philanthropy a perfect and necessary pairing; art has a new home on the Hilltop—a magnificent place where passion, vision, and inspiration can thrive."
To learn more about the Maria & Alberto de la Cruz Art Gallery and upcoming exhibitions, visit the gallery website.