Category:

Transformative Opportunities
Title:

How Georgetown is 'shaping a transformative education that is responsive to our times'
Date Published:
February 10, 2019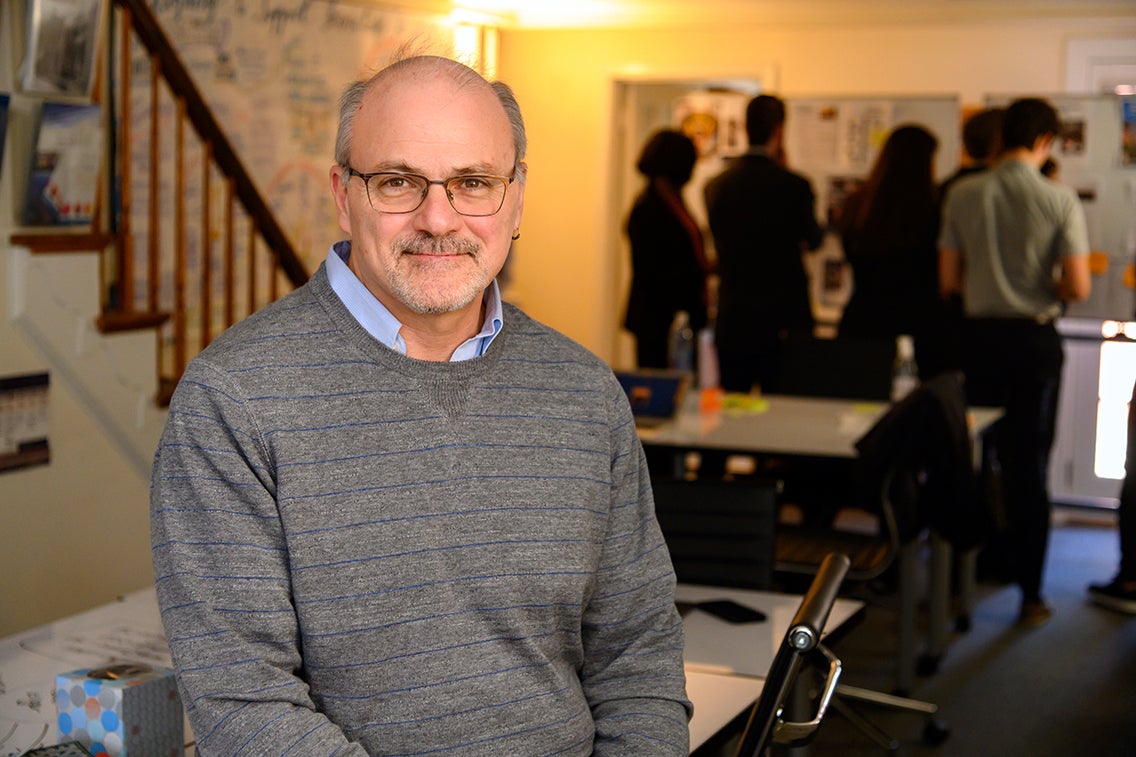 Vice Provost for Education Randall Bass discusses the biggest challenges facing higher education today, how Georgetown is innovating to prepare students for the complexities of the 21st century, and how the new Baker Trust will facilitate the development of 'an ecosystem for transformational learning.'
What are the biggest challenges in higher education today? Where is innovation most needed?
We're facing three major challenges.
First, how do you create an overall educational experience that's responsive to our era? The world has changed faster than universities. We need to provide students an education that is maximally responsive to the complexities of our times. That means doing more to help students develop the skills and capacities to meet these challenges, doing more to help students connect theory to practice and to apply their learning in unscripted contexts as an integral part of their learning. This will require new models of learning and curriculum, not merely adding on.
Second, how do we reshape our institutions for diversifying student body? For a long time, colleges were for relatively elite, relatively homogenous people. Recently, the college population has become much more diverse, and we have oriented our support around helping students adapt to us. Now we have to reimagine the university to adapt to the new student body: students from under-resourced backgrounds but also students with new learning styles, contexts, and expectations. It's all about refitting the university to a new population—not making a new population fit into us.
Third, how do we deliver a high-impact, relationship-based, rich experiential education affordably? We have a lot of evidence about what makes an education powerful and high-impact—that's the good news. The bad news is that most of those things are very expensive; the most resource-intensive things we do are the things that make the biggest difference.
So the challenge is: how do we continue to shape a transformative education that is responsive to our time, that is equitable, affordable, and financially sustainable? We can't meet all of those goals without innovation, without changing some of the ways we do business.
How are we thinking about these challenges at Georgetown?
We have been thinking about this for quite a while, which is directly traceable to our Jesuit heritage: we care deeply about teaching and learning and equity, and the Jesuits have a long history of innovation and values-based restlessness. This heritage gives us a specific perspective, a drive to work across across silos and to think and act as a more integrated university.
What's unique is that we keep equity and affordability at the heart of our innovation efforts—there's no way we can provide an equitable and affordable transformative education by doing business as normal. If innovation is focused solely on transformative learning, it will make education far more expensive. So we keep innovation tightly coupled with equity and affordability at all times.
So Georgetown isn't new to educational innovation. How has that work grown and evolved?
Our recent work dates back to the late 1990s, when we founded CNDLS as a unique center for teaching and learning that embodied Jesuit principles. We focused on the scholarship of teaching and learning, as well as embracing new technologies. Bringing all those together in a single center was unusual at the time; they were diffuse on most campuses.
In 2013, we launched the Designing the Future(s) of the University initiative—which has become synonymous with The Red House, its location across the street from campus—as an R&D unit for new ideas. It's a place where grass-roots ideas can be incubated and piloted with the university's blessing but without many of the bureaucratic constraints that can sometimes stifle innovation.
So we've been building this integrated community of innovators for almost 20 years, and now we're at an inflection point, ready to move from course-level innovation to structural innovation. How do we integrate our schools and our centers around course design to deliver the curriculum in new and innovative ways?
You've anticipated the next question: how do we do that?
We build an ecosystem for transformational learning. This is a huge task requiring significant investment and commitment. And we're incredibly lucky to have the dedication and vision of Jon and Pat Baker, who understand this need and are supporting it in a number of ways, including a $20 million gift to establish the Baker Trust.
The Baker Trust—that's an unusual name for a university initiative. Why "Trust"?
In working with The Bakers we were very intentional in calling it a Trust—they intend for it to be an integrative force, helping to drive change by working across boundaries, building networks, and facilitating collaboration to transform and enhance the student learning experience equitably, so that it is the new norm for every Georgetown student.
The Baker Trust will allow us to turn the work we've been doing into a much bigger, more concerted, cross-campus effort–to integrate the vision of our deans, the amazing work of our co-curricular centers, the R&D from the Red House across the campus. We have an opportunity to rewire the relationships among the faculty, the schools, and the centers of expertise, and to create sustainable demonstrations of what new forms of curriculum could look like.
To ensure this work moves forward collaboratively, and with a sense of accountability, we'll convene people across campus every year to discuss how we're progressing, to consider what it means to have once-exceptional experiences become common. We'll identify metrics and milestones and evaluate where are we on the journey.
What are some examples of the types of innovative models the Baker Trust will facilitate?
We see this cross-campus innovation being particularly meaningful in three areas: evolution and renewal of the core curriculum, expansion of experiential learning, and reinvention of the young alumni experience.
First, there's an opportunity to think about the core curriculum as a living core, built around critical questions, like: What does it mean to be a citizen at this moment? How do we distinguish truth from disinformation? How do we create dialogue among different groups? What's the relationship between human learning and machine learning?
When it comes to experiential learning, we have an exciting example in the Capital Applied Learning Lab (CALL), which is launching later this year. It's an immersive program in which students live and intern downtown, and it will incubate and model new educational practices built around mentored experiential learning.
And we want to revolutionize the way we work with young alumni. There's an opportunity to completely re-imagine the porousness between being a student and being a new graduate: how can we support young alumni in those first five years, when they are processing their education and thinking about the rest of their lives of learning? And how can we better connect young alumni to our current students?
How will we deliver the fruits of this innovation equitably and affordably?
That's a critical question. Historically, experiential learning happened outside the classroom, as an added activity beyond credit-bearing coursework, which implicitly advantages financially secure students. The Baker Trust seeks to build experiential opportunities into the educational journey so that they're available to everybody, they're equitable, they're universal, and they're powerful.
This doesn't mean bolting on new experiences to the already existing curriculum, but rather re-imagining our core educational experiences from the inside out. We can still value faculty in the classroom digging intensively into topics and texts and invigorate the ways we engage students with the world's most complex questions and problems. For example, The CALL is a signature program in this vein, incorporating transformative skill-building activities, leadership, internship, and other kinds of personal and professional development. It's made possible by the Baker Trust not just in terms of supporting an innovative curricular approach but also by providing the financial support necessary to ensure the experience is available to all students regardless of income status.
"How do we continue to shape a transformative education that is responsive to our time, that is equitable, affordable, and financially sustainable? We can't meet all of those goals without innovation, without changing some of the ways we do business."

Randy Bass