Category:

Access & Affordability
Title:

Warner Bros. CEO Gives to Georgetown McDonough, First-Gen Students, and Aspiring Entrepreneurs
Date Published:
August 7, 2019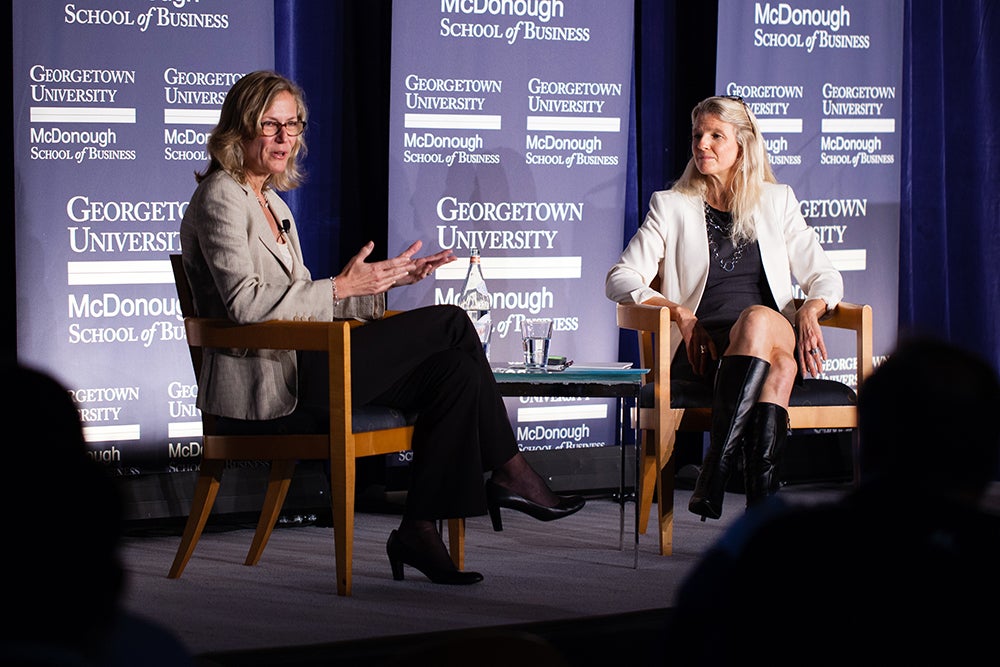 Ann Sarnoff (B'83), the new chair and CEO of Warner Bros. Entertainment Inc., has made a three-part gift to Georgetown University's McDonough School of Business. Her gift will support the school's top priority projects, first-generation students, and entrepreneurship opportunities.
As the first woman to be CEO in the company's history, Sarnoff is used to breaking molds and building new ideas. Over the course of her career as a media executive, she has created new businesses like Noggin and TV Land at Viacom and BritBox at BBC Studios Americas. Sarnoff credits Georgetown for providing her liberal arts, business, and entrepreneurial foundations. "My Georgetown classes were the underpinning of everything I do in the business world today," she says.
Investing in McDonough's innovation
Paul Almeida, McDonough's dean, says that Sarnoff has a long relationship with the university through mentoring and the Wall Street Alliance, as well as providing leadership through several executive boards. "I'm very grateful that in spite of being so busy she remains vice chair of our board of advisors and executive committee," says Almeida. Since becoming dean in 2017, he has consulted Sarnoff on numerous projects. "The richness of her point of view is extremely powerful," he says. "She advises me on almost every important strategic decision I make."
"I'm excited about the future of the school under Paul's leadership," says Sarnoff. "I have a lot of faith in his strategy and mission for how to build McDonough into an even greater institution at the graduate and undergraduate level." To advance Almeida's goals for the school, Sarnoff gave a significant portion to her gift to support the McDonough Dean's Leadership Fund.
This fund empowers Almeida to invest in McDonough's top priorities, such as embracing technology and expanding experiential learning. The fund also helps programs adapt to solving complex problems in the business of health and sustainability as well as the dynamics between AI and human work. "This is where funding makes a lot of difference," says Almeida.
Transforming opportunities for first-gen students
Sarnoff grew up in a small town and was a first-generation college student. Georgetown met her full financial need through a combination of grants, work study, and loans. "It was eye-opening and world-opening for me to walk through those gates," says Sarnoff. "I am so grateful for the opportunity that Georgetown afforded to me."
As an alumna, she gave a major part of her gift to establish the Ann Misiaszek Sarnoff and Richard Sarnoff Endowed Scholarship, with preference for students who are first-in-family to attend college and enrolled in McDonough. "I want to be able to pay it forward. This gift will help other kids like me who did not come from a lot of wealth. They should be able to go to a school as good as Georgetown and have it transform their lives in the way it transformed mine," says Sarnoff.
Almeida says that first-generation students are critical to fostering thought diversity on campus. "We're trying to create a learning community. That is best achieved through people with different life experiences and points of view sharing ideas together."
Building new ideas from the ground floor
As an undergraduate student, Sarnoff found a community in her Harbin Hall dorm, never knowing that one day she would help finance a new Venture Lab business incubator project in that very building. Sarnoff has supported the Entrepreneurship Program at McDonough since it began, and said that she is "thrilled to see the Venture Lab take the program to the next level." Sarnoff gave the third portion of her gift to establish Ann Misiaszek Sarnoff and Richard Sarnoff Capital Fund to support expenses related to Harbin ground floor renovation project.
The Venture Lab will provide meeting spaces for students across campus to develop their ideas for new businesses and organizations. "We want to serve the whole Georgetown community," says Almeida. "In a changing world, everyone benefits by thinking entrepreneurially."
Sarnoff says Georgetown taught her how to be a principled leader who gives back to their community. "Georgetown was a good match with my values," says Sarnoff. "And my values carry through everything I do."