Category:

Campus & Community
Title:

Making a Difference: Paul F. Pelosi Public Service Scholars Program Supports SFS Students Exploring Careers in Public Service
Date Published:
January 4, 2019
Paul F. Pelosi Public Service Scholars Program Supports SFS Students Exploring Careers in Public Service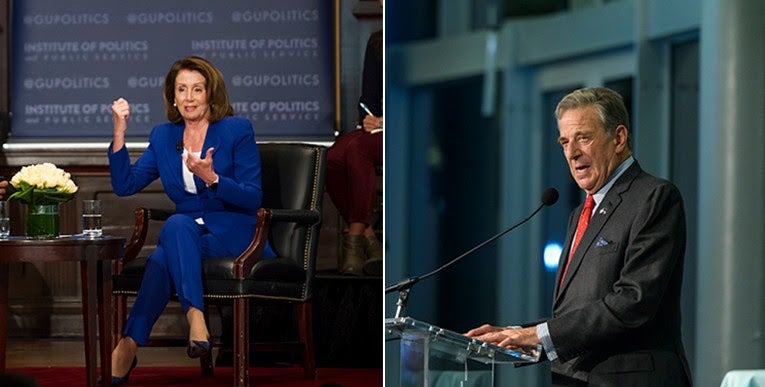 An existing program for aspiring public servants has a boost and a new name thanks to the leadership and personal generosity of Paul (F'62) and Nancy (H'02) Pelosi (Parents'88,'89,'91,'95).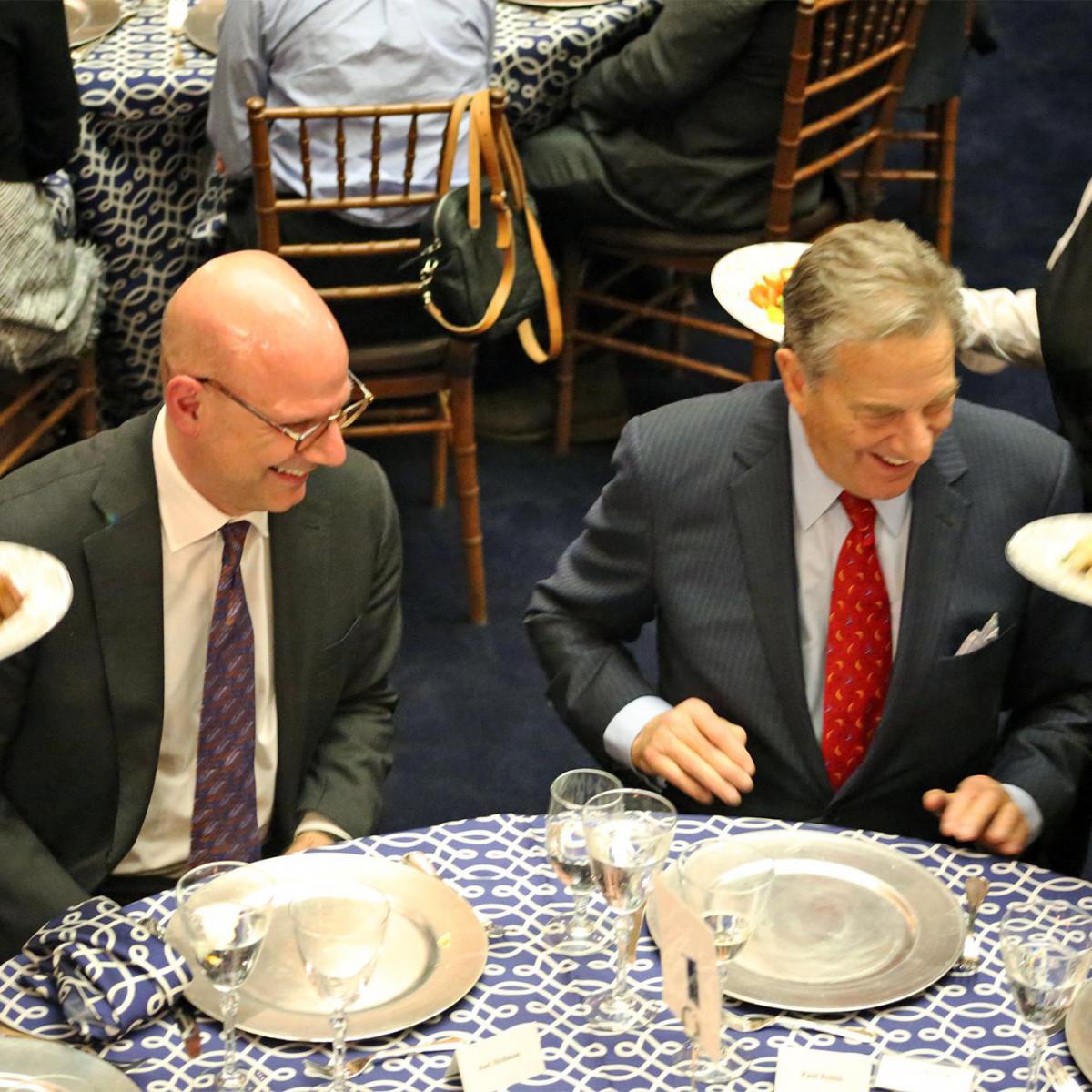 The Paul F. Pelosi Public Service Scholars Program aims to identify undergraduates in the School of Foreign Service who are committed to a career in public service, prepare them for global leadership, and inspire them to engage deeply in the study of global affairs. When the Student Council made adding more permanent, enhanced support of public service internships one of their highest priority requests to Dean Hellman, Nancy Pelosi noted how impressed she was.
"It's great to see the student demand for public service careers," said the first woman to serve as Speaker of the U.S. House of Representatives, who was elected to this position for the second time in her career on January 3, 2019. "The mission of this program is to equip students with the professional experience, confidence, and opportunity to address the most pressing international challenges of our time. Indeed, to advance Georgetown values, and make the world a better place!"
Paul and Nancy Pelosi led an effort to raise $1.6 million for the program.
"This is so in our sweet spot to encourage young people who are interested in careers in public service," added Paul Pelosi. "To the extent that we can facilitate that in a significant way is just really exciting to us."
President John J. DeGioia called the enhanced program "a fitting tribute to an extraordinary alum and leader in our Georgetown community" and added, "We are deeply grateful to Paul and Nancy for their long history of engagement and support for Georgetown."
Helping public servants get their 'foot in the door'
The program will center on several major pillars: training sessions on developing professional skills; seminars focused on conducting and presenting research; mentorship with professors and practitioners; support and guidance in obtaining internships relevant to students' academic interests and professional goals; community reflection and mentorship by scholars to the next class of scholars; and externships shadowing Hoyas in the field.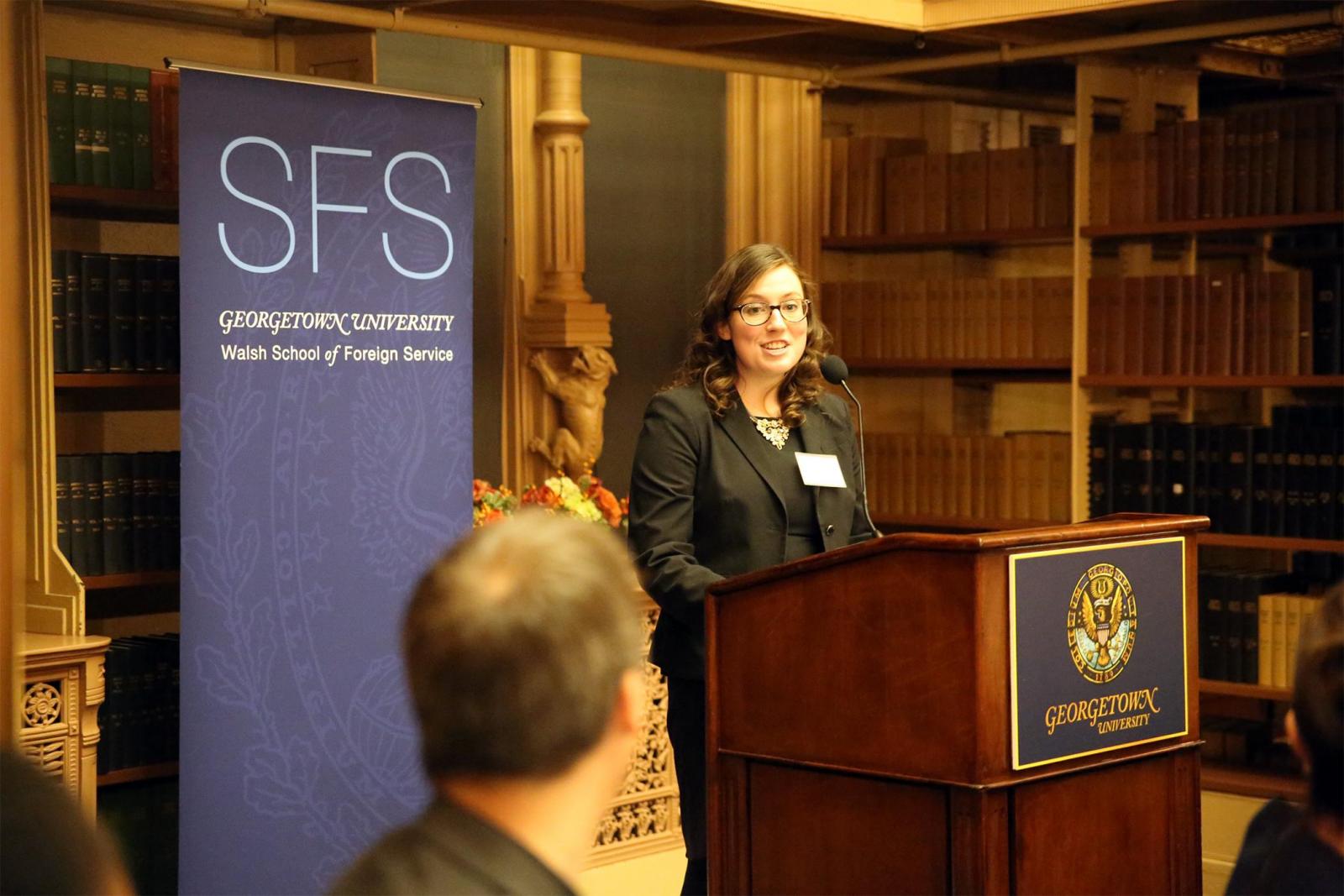 Megan Murday (F'15) founded the original Walsh Scholars Initiative in 2015 when she was a senior and president of the SFS Academic Council. She and her classmates observed the difference between the defined private sector recruiting process and the limited paths to paid internships in direct service, think tanks, nonprofits, or government agencies.
"Even if students could navigate the public sector internship search, the highest barrier was financial," said Murday. "For many of our students, working in D.C. without wages and paying rent is simply not a possibility."
In order to create a more robust pipeline to foreign service from the School of Foreign Service, Murday explained, student leaders, alumni, professors, the Institute for the Study of Diplomacy, and the SFS Dean's Office worked together to create the Walsh Scholars Initiative. This funded program provided a stipend to cover living expenses during unpaid summer internships in the public sector. Financial support along with professional development, community, and mentorship had a demonstrable impact on its scholars.
Taemin Ahn (F'17) remarked that "As the son of immigrants to the United States who didn't know what a career in public service looked like… the professional internship that Megan organized really helped me to get my foot in the door."
Colton Wade (F'18, MSFS'19) called the supported internship a "lynchpin experience" that shifted his career direction to global issues such as anti-corruption, democracy, and governance.
"The program has been life-altering and eye-opening so I'm very grateful," said Angela Gladkikh (F'20).
Thanks to the generosity of the Pelosi family and many others who joined them in support, the expanded and renamed program now supports 10-15 aspiring public servants per class.
"SFS inherently draws a student body that is determined to affect change, and we welcome those students as leaders of the future," Murday said. "We teach them that service is not just an act of kindness; service is fundamentally a responsibility to see the world's suffering and to do your part to make a difference. Students view internships and careers as opportunities to live out their commitment to serve."