Access & Affordability
Our Defining Commitment
Georgetown's commitment to educational opportunity runs deep, building on a centuries-old Jesuit tradition of providing access to higher education. That means not only access to enrollment—but access to the complete college experience.
Our whole-institution approach to inclusive excellence is bringing talented students to campus. It's unlocking their full potential. It's enriching the Georgetown experience for all students. And it's prompting the intercollegiate conversation and collaboration needed to make systemic change.
Need-blind, meet-full-need admissions
More than 40 years ago, Georgetown became one of the first schools to admit undergraduate students on a need-blind basis and meet U.S. students' full demonstrated financial need. The decision transformed our trajectory, making Georgetown a destination for the world's most talented students and ensuring they get the opportunity to study here.
Ensuring talented students can choose Georgetown
Georgetown has made an enduring commitment to increase the number of philanthropically funded undergraduate scholarships—awards that help clear students' path to a Georgetown education and shrink their loan burdens.
Scholarships allow us to compete for the best students. And when Georgetown enrolls bright, ambitious, and passionate students with wide-ranging experiences and backgrounds, our entire community benefits. Put simply, giving to scholarship is the single-most direct way you can help secure the future of our university.
Georgetown is one of only 35 schools in the Consortium on Financing Higher Education (COFHE). COFHE colleges and universities are committed to meeting the full demonstrated financial need of admitted students. Georgetown is also one of 23 colleges and universities in the 568 Presidents Group dedicated to admitting students on a need-blind basis and supporting transparent and fair awarding of need-based financial aid.
A Testimonial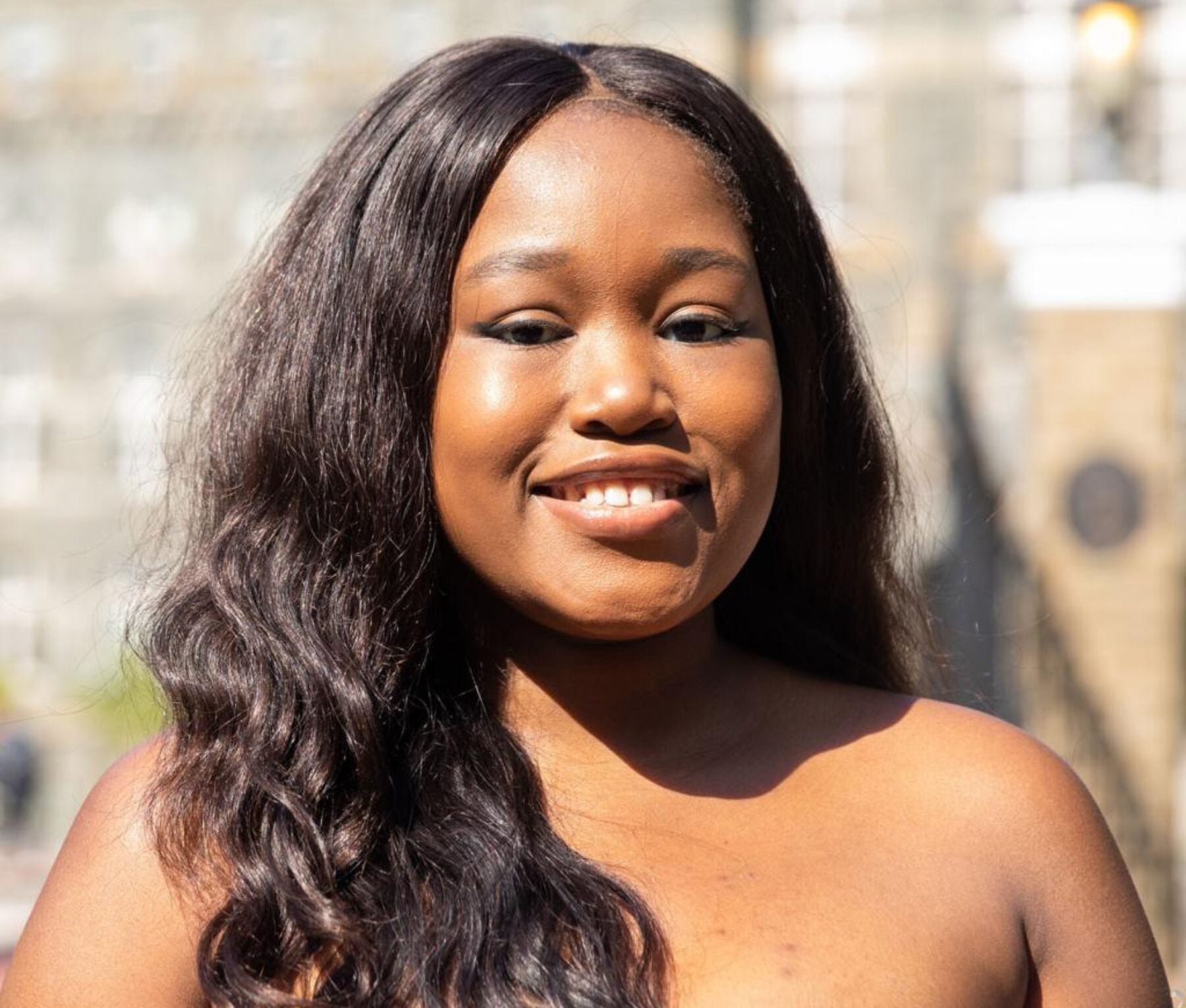 "I initially chose Georgetown for its prestige, but the school also awarded me a full scholarship—removing a significant financial barrier to higher education."
— Omoyele Okunola (C'20), vice president of Georgetown University Women of Color, winner of Georgetown's McTighe Prize, and participant in the Baker Scholars Program and Georgetown Scholars Program
What's the scope of Georgetown's scholarship commitment?

How do scholarships fit in with the rest of a student's financial aid package?

Georgetown scholarships are awarded to meet 100 percent of a student's need, after taking into account the expected family contribution, federal student loans, student earnings from part-time employment, and other outside aid.

What is the Georgetown Fund?

The Georgetown Fund is the beneficiary of unrestricted gifts through Georgetown's Annual Giving program. Georgetown directs 100 percent of Georgetown Fund gifts to 1789 Scholarships for undergraduate students.

Why are 1789 Scholarships so important?

Launched in 2009, donor-funded 1789 Scholarships both fund the outright grant component of a student's financial aid package and reduce the loan component by as much as $3,000 per year. They are awarded to students with the greatest demonstrated need, and all students receiving a 1789 Scholarship are invited to join the Georgetown Scholars Program.

Sixty-eight percent of admitted students offered a donor-funded 1789 Scholarship ultimately enroll at Georgetown. (The university's overall yield is 49 percent.)

Moreover, students who receive donor-funded 1789 Scholarships graduate with approximately $7,000 in student loan debt, compared to a typical amount of $19,000 for students who accept loans in their Georgetown aid package.

How much money does it take to establish a named scholarship?

Current-use gifts

A $100,000 current-use gift paid across four years will create a named domestic undergraduate scholarship (awarded to one student across four years).
A $300,000 current-use gift paid across four years will create a named international undergraduate scholarship (awarded to one student across four years).

Endowed gifts

$50,000 will support Georgetown's endowed financial aid fund, growing the foundation of our defining commitment to need-blind admissions and meet-full-need financial aid.
$150,000 will create a named and endowed scholarship fund that supports U.S. undergraduate students year after year.
$1.5 million will create a named and endowed scholarship fund that supports international undergraduate students (preference may be given to a designated region).
$5 million will create a named and endowed undergraduate student cohort, with one student in each of the four undergraduate classes. That means every future Georgetown graduating class would have a Hoya Family Scholar.

"Fully funding" one student

$1.5 million will create an endowed scholarship fund with income that covers the equivalent of the full cost of attending Georgetown.
$300,000 ($75,000/year) across four years will create a current-use scholarship that covers the equivalent of the full cost of attending Georgetown.

How does Georgetown support International Students with financial need?

Georgetown deeply values the contributions of its international students and is need-blind in admissions for international applicants. Georgetown currently provides approximately $2 million to fund scholarships for international students—half made possible through philanthropy—but is unable to meet the full need of all international students.

We seek to significantly increase philanthropic support for international student scholarships. Achieving this will require the partnership of alumni and friends from around the world who are committed to making our campus community even more globally representative.